· Last season's game - Spurs 1 Everton 0, 06.07.20
· Premier League Matchday 1 last year
· See the current injury list for all Premier League Teams
· All the Spurs Stats you could hope for here! THFC6061 Sports Stats


Full Record of Spurs -v- Everton
 
Prem          Pl   W   D   L   For- Ag  Pts
Home          28  17   8   3   54 - 31  59
Away          28  10  13   5   34 - 24  43
==========================================
Total(Prem)   56  27  21   8   88 - 55 102  1.82 Pts per game
==========================================
Football Lge
Home(Div 1)   54  25  16  13  107 - 67  72
Away(Div 1)   54  10  17  27   60 - 88  38
==========================================
Total(Div 1) 108  35  33  40  167 -155 110
==========================================
Football Lge
Home(Div 2)    1   1   0   0    1 -  0   2
Away(Div 2)    1   0   0   1    2 -  4   0
==========================================
Total(Div 2)   2   1   0   1    3 -  4   2
==========================================
Total(Prem)   56  27  21   8   88 - 55 102
Total(Div 1) 108  35  33  40  167 -155 110
Total(Div 2)   2   1   0   1    3 -  4   2
==========================================
Grand Total  166  63  54  49  258 -214 214
==========================================

Last Six Premier League results:-

Spurs      -    WDWWWD
           
Spurs      1-0    Everton
B'mouth    0-0    Spurs
Spurs      2-1    Arsenal
Newcastle  1-3    Spurs
Spurs      3-0    Leicester
C. Palace  1-1    Spurs

Everton    -    LDLDWL

Spurs      1-0    Everton
Everton    1-1    S'hampton 
Wolves     3-0    Everton
Everton    1-1    A. Villa
Sheff Utd  0-1    Everton
Everton    1-3    B'mouth

2019/20 Final Positions

 6. Spurs     38 16 11 11  61-47  14   59 
12. Everton   38 13 10 15  44-56 -12   49
 

Strange new world
We live in unprecedented times, and we all know why. We've experienced empty Premier League football stadia earlier this year with "Project Re-start" and we have to put up with empty arenas for the immediately forseeable future. Inevitably, the excitement of a new season with the prospect of "being there", enjoying the roars of the crowds, along with the "oohs" and "ahs" of live football has been diminished.
Spurs have dipped into the transfer market and acquired good value signings in Pierre-Emile Hojbjerg, Matt Doherty and Joe Hart (will he or Gazzaniga get the bench seat on Sunday?), but many fans want so much more. To see the money that has been spent by Abramovich on behalf of fledgling manager Frank Lampard and to see the quality of the players going to Stamford Bridge, along with the continuing strength and power of Liverpool and Manchester City is distressing.
Manchester United are still haggling, so it seems, with Borussia Dortmund over Jadon Sancho but Ole Gunnar Solskjaer has also been granted a generous transfer kitty by his bosses this year. Bruno Fernandes was emphatically an influential signing in January. Leicester might wane a little this season, but under Mikel Arteta the "team down the road" has been making depressing progress. Achieving the coveted top four and a route to the Champions League will be as difficult as ever.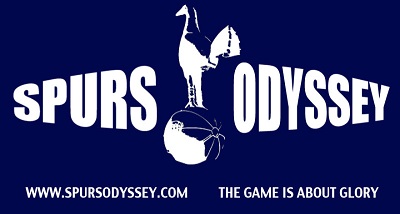 THFC would not allow me the fly the Spurs Odyssey flag in the stadium for these behind closed doors games but it will feature in my match report!
Jose Mourinho's number one target will surely be The Europa League, which would give us Blue Riband European football in 21/22. That challenge will begin next Thursday in Bulgaria against Lokomotiv Plovdiv, and I can't even find a TV channel that will be covering that match. This is a strange new world for someone who attended and reported on all but one of our games last season, until lockdown arrived.
Whilst this will be the latest start to any Premier League season, and certainly Spurs' latest start to any league season it is not unprecedented for the Football League season to start in September. The first August start was in 1919, and for Spurs that was on August 30th. Spurs did have a September start to the 1988-89 season (3rd September against Newcastle), but that was because refurbishment of the East Stand was not completed in time.
The latest start to any season for Spurs was on September 10th 1898 at our Northumberland Park ground when we drew 1-1 against Bedminster. The Spurs goal was scored on his debut by John Cameron, signed that summer from Everton. Cameron would manage the side subsequently of course, and led us to that historic 1901 FA Cup victory, even scoring in the final for good measure!
Statistically, our first opponents Everton are one of our favourite opposition teams in the 28-year history of the Premier League. As you can see, we've only lost 8 of 56 games played, and we currently have a record of fifteen games unbeaten against "The Toffees". We haven't lost at home to Everton since November 2008, and our points per game record in the Premier League is the best against the other five ever-present teams at 1.82.

              P  W   D   L   F - A  Pts (Per-game)
1. Everton   56 27  21   8  88 -55  102   1.82
2. Arsenal   56 13  23  20  69 -90  62    1.107
3. Liverpool 56 14  15  27  64 -95  57    1.017
4. Chelsea   56  7  19  30  55-102  40    0.714 
5. Man Utd   56  9  12  35  50 -94  39    0.696 

This will be only the 8th time that we start a Premier League programme at home, and of course this time, because of Coronavirus, it has to be behind closed doors. Like all regular attending fans, I was worried about the probability that not all games would be televised, unlike during "project restart". We do now know that all September Premier League games will be covered on TV.
We have often played Everton within the first few games at the start of the season and twice opened our Premier League programme at Goodison Park in 2002 and 2016. We were supposed to have opened the 2011-12 season with a home game against Everton, but the riots put paid to that.
60 years ago on August 20th 1960, Spurs commenced their glorious double season with a 2-0 home win against Johnny Carey's Everton side. In his excellent series on the "Double" Brian Judson said of this game:- "Only five minutes of the game remained to be played when, with Jones limping in those distant pre-substitute days, Smith was brought down in the penalty area. The referee waved play on as Spurs were in a good position and Allen slipped the ball behind Dunlop to put Spurs ahead. Two minutes later, Spurs increased their lead when White centred the ball and Smith, sinking to his knees, headed the ball home."
Spurs' only other title winning season began in 1950 with a 4-1 home defeat to a Blackpool side which featured the famous Stans - Matthews and Mortensen. I do still hope to publish the late Brian Judson's excellent series on that title win in the near future.
Last season's corresponding game was played in July of course in the post lockdown period. Whilst the game was the start of a 6-game unbeaten run which ultimately gave us a place in Europe, it was a turgid affair and we relied upon a Michael Keane own goal to give us the three points. The win did take us over the 100 Premier League points landmark against "The Toffees".
Everton's late season form was not good, with only one win in their last six games. In a pre-season game at Blackpool on 22nd August they went 3-0 down before salvaging a draw, largely thanks to two dead-ball goals by former Spur Gylfi Sigurdsson. One was a free kick. The other was a penalty.
Everton manager Carlo Ancelotti has made four signings so far in this window. The first would appear to be one for the future - a 19-year-old French left back Niels Nkounkoou from Marseille. The other three are all possible debutants on Sunday. One was Brazilian central midfielder Allan from Napoli, thus re-uniting with Carlo Ancelotti. The Ancelotti influence presumably drove the signing of James Rodriguez from Real Madrid. Now 29, Rodriguez was snapped up by Real in 2014 after his World Cup goalscoring success. After his first season Rodriguez's scoring rate diminished and he spent two seasons on loan with Bayern Munich - initially also under Ancelotti's leadership.
Finally, Everton this week confirmed the signing of midfielder Abdoulaye Doucoure from Watford for a reported fee of £20 million.
Jose Mourinho has been trying several formations in the four pre-season friendlies, but some key players have not been available to him. As a result of the brief interval begtween last season and this, together with the truncated pre-season routines, some players are still looking for sharpness and full match fitness.
The club issued the following team news:-
"Japhet Tanganga is sidelined for our Premier League opener against Everton at Tottenham Hotspur Stadium on Sunday (4.30pm). The young defender has a thigh injury. Meanwhile, Jose Mourinho will make a late decision on the fitness of Gio Lo Celso (hamstring)."
Jose will surely want his strongest available team to give us a good start and with Spurs' impressive record against "The Toffees" I have to back them to win. I'll say 2-0. I look forward to seeing both Hojbjerg and Doherty in our colours, and I fancy both of them to offer plenty of assists and a goal or two over the course of the season!
Match referee Martin Atkinson first took charge of a Spurs game 15 years ago in August 2005. That was a 2-0 home win against Middlesbrough when the goalscorers were Jermain Defoe (featured in this week's Norman Giller blog) and Mido. Mido would subsequently have two short spells with the Teeside club. Mr. Atkinson's last Spurs game in the middle was our 3-2 away win against Aston Villa in February. The same referee was in charge of our away game against Everton last November. Mr. Atkinson initially showed a yellow card when Gomes suffered his horrific ankle injury after Son's challenge, but that was upgraded to red - possibly by VAR.
Look out for the usual Spurs Odyssey post-match survey and report! Kick-off is at 4.30pm on SKY and as Martin Tyler always says "It's live!"