· Last season's game - Newcastle 1 Spurs 3, 15.07.20
· This season's home game - Spurs 1 Newcastle 1, 27.09.20
· Premier League Matchday 30 - last year
· See the current injury list for all Premier League Teams
· All the Spurs Stats you could hope for here! THFC6061 Sports Stats


Full Record of Spurs -v- Newcastle United
 
Prem         Pl   W   D   L    For-Ag  Pts
Home         26  14   2  10    38 -30  44
Away         25   8   5  12    35 -47  29
==========================================
Total(Prem)  51  22   7  22    73 -77  73  1.44 Pts per game
==========================================
Lge Div 1
Home         43  24   7  12    87 -48  59
Away         43  15  14  14    70 -76  45
==========================================
Total(Div 1) 86  39  21  26   157 -124 109
==========================================
Lge Div 2
Home          6   1   3   2     6 - 7   5
Away          6   3   0   3     6 - 4   6
==========================================
Total(Div 2) 12   4   3   5    12 -11  11
==========================================
Total(Prem)  51  22   7  22    73 -77  73
Total(Div 1) 86  39  21  26   157 -124 109
Total(Div 2) 12   4   3   5    12 -11  11
==========================================
Grand Total 149  65  31  53   242 -212 192
==========================================

Last Six Premier League results:-

Newcastle  -    LLDDDL

Chelsea    2-0    Newcastle
Man Utd    3-1    Newcastle
Newcastle  1-1    Wolves
West Brom  0-0    Newcastle
Newcastle  1-1    A. Villa
Brighton   3-0    Newcastle

Spurs      -    LWWWLW
           
West Ham   2-1    Spurs
Spurs      4-0    Burnley
Fulham     0-1    Spurs
Spurs      4-1    C. Palace
Arsenal    2-1    Spurs
A. Villa   0-2    Spurs

Pos            P  W  D  L   F-A   GD  Pts
 6. Spurs     29 14  6  9  49-30  19   48
17. Newcastle 29  7  7 15  28-48 -20   28 

When will we be here again?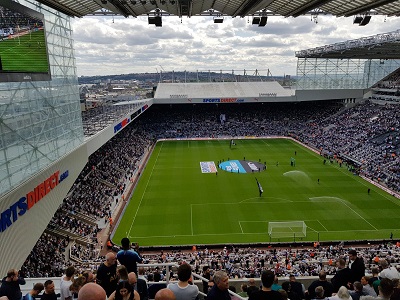 It is almost 32 months since we fans visited St James' Park. That was in August 2018 when Spurs won 2-1 and my report referred to our goals being scored by two World Cup semi-finalists. They were Dele Alli and Jan Vertonghen. Over 51,000 fans were present. The club's next visit was after the first Covid Lockdown in July last year. We won again with goals by Heung-min Son and Harry Kane (2) - another of those World Cup semi-finalists. Of course, there were no fans present last year, and there will be none this Easter Sunday. One wonders when we fans will next visit St. James Park.
Covid-19 and the associated regulations are not the only reason for wondering about our next visit to Tyneside. Newcastle's precarious position just two points above the bottom three is another consideration, as relegation is a real possibility for Steve Bruce's team. Relegation has too often been on the agenda of the "Magpies" in recent years and the manager has been unable to waylay such fears since his appointment before the start of last season. No doubt the manager has been hampered by some lack of investment regarding transfers and there has been uncertainty regarding Mike Ashley's intended sale of the club. Injuries to key players, particularly recently, have not helped.
Newcastle's draw at the Tottenham Hotspur Stadium in September came as a result of the controversial award of a penalty for handball against Eric Dier and Callum Wilson's 97th minute penalty. That was Newcastle's first shot on target. Karl Darlow's 11 saves in this game were the most by a Newcastle goalkeeper in a Premier League match since Tim Krul made 14 against Tottenham in November 2013.
This season's 1-1 draw was only the second Premier League home draw between the two sides. The previous occasion was on 29th October 1995, which also finished 1-1. Chris Armstrong gave us a 21st minute lead and a certain David Ginola equalised in the 47th minute. Another future Spur - Les Ferdinand - was also in the Newcastle team that day. The two managers were Gerry Francis and Kevin Keegan.
Newcastle were 13th after our September game this season and also after a 2-1 home win against West Brom in December. The "Toon" then went on a depressing run of 9 games without a win, before surprisingly beating Everton 2-0 at Goodison park in late January. They beat Southampton 3-2 on 6th February, but have failed to win any of their last six games. Hence their fall to 17th place accentuated by a horrible 3-0 defeat at Brighton in their last game.
In fairness, Newcastle have been without key players such as Almiron, Saint-Maximin and Wilson in recent games. Almiron returned in the Brighton game, and there is a good chance that Wilson and Saint-Maximin will return for our game, which kicks off at 2.05pm on Sunday and will be shown on Sky Sports.
This will be the 150th league meeting between the two sides. The first such meeting took place on 6th November, 1909 when the Newcastle team included future Spurs manager Peter McWilliam who would lead us to FA Cup glory in 1921. Our first Premier League meeting was on 14th August 1993 when Teddy Sheringham scored the only goal of the game.
This preview is being published earlier than usual, due to personal commitments(see below), but Jose Mourinho will have carefully observed the reurn of his players from International duties. Davinson Sanchez had no commitments, so I think it is safe to assume he will start. Eric Dier has been with the England squad but had no playing time, so he may be preferred to Toby Alderweireld and Joe Rodon, both of whom have been busy over the last fortnight. Ben Davies is out for another week with a calf strain but Sergio Reguilon might be available. Hopefully Heung-min Son will be fit to start after his thigh injury. Erik Lamela will be available after suspension.
My prediction is for a 2-0 Spurs win. My personal commitments this Easter will be to enter a Covid-permitted child-care support bubble for my one-month old grandson, who I shall be seeing for the first time. I shall try to send out the usual post-match survey asap after the game, but my good friend Declan Mulcahy has kindly offered to submit a report which will be published later than usual.
We have yet to win a game this season with referee Craig Pawson in charge. His previous two games were our home game against Leicester and the away defeat to West Ham. Third time lucky please Mr. Pawson!
Did you know? - Newcastle were relegated from the first division at the end of our double-winning 1960-61 season. The "Magpies" were one of our 16 beaten victims in our opening run of 17 games undefeated. We beat them 4-3 at St. James' Park in October with goals by Maurice Norman, John White, Cliff Jones and Bobby Smith. The Newcastle team included future Sunderland manager Bob Stokoe, whose statue stands outside The Stadium of Light. We surprisingly lost the home game 2-1, but as Brian Judson wrote Spurs "had so many chances they should have scored 20 against Newcastle. It was one way traffic!"