∑ Last season's game - Spurs 2 West Ham 0, 23.06.20
∑ Premier League Matchday 5 - last year
∑ See the current injury list for all Premier League Teams
∑ All the Spurs Stats you could hope for here! THFC6061 Sports Stats

Full record - Spurs v West Ham

Premier          Pl   W   D   L   For-Ag  Pts
Home             24  13   6   5   36- 22  45
Away             24  11   3  10   33- 32  36
==============================================
Total (Prem)     48  24   9  15   69- 54  81   1.68 pts per game
==============================================
Football League
Home (Div 1)     33  17   7   9   65- 51  47
Away (Div 1)     33   9   9  15   45- 54  29
==============================================
Total (Div 1)    66  26  16  24  110-105  76
==============================================
Football League
Home (Div 2)     10   4   4   2   18- 13  12
Away (Div 2)     10   3   3   4   13- 12   9
======================= ======================
Total (Div 2)    20   7   7   6   31- 25  21
==============================================
Total (Prem)     48  24   9  15   69- 54  81
Total (Div 1)    66  26  16  24  110-105  76
Total (Div 2)    20   7   7   6   31- 25  21
==============================================
Grand Total     134  57  32  45  208-184 178
==============================================

Last Six Premier League results:-

Spurs      -    WDLWDW
           
Spurs      3-0    Leicester
C. Palace  1-1    Spurs
Spurs      0-1    Everton
S'hampton  2-5    Spurs
Spurs      1-1    Newcastle
Man Utd    1-6    Spurs

West Ham   -    DDLLWW

Man Utd    1-1    West Ham
West Ham   1-1    A. Villa
West Ham   0-2    Newcastle
Arsenal    2-1    West Ham
West Ham   4-0    Wolves
Leicester  0-3    West Ham

Pos            P  W  D  L   F-A   GD  Pts
 6. Spurs      4  2  1  1  12-5    7    7
10. West Ham   4  2  0  2   8-4    4    6

In truth, both teams are probably saying "Bring it on!"
Without doubt, most Spurs fans are eager to see Gareth Bale play in our colours again. We have many special memories, such as The San Siro, Inter, and "Taxi for Maicon". I was lucky enough to see every one of Bale's 55 Spurs' goals (we can now say to date!) and one of my fondest memories is of a 90th minute rocket at Upton Park in February 2013. We won 3-2 and Bale raced to the Spurs bench to embrace (among others) then manager Andre Villas-Boas. Who would have guessed that before that year was out Bale would depart for Madrid and that the manager would be sacked?
Whilst we await formal team news, it would seem we need to be cautious about any possible introduction of Bale this Sunday, when our game is broadcast at 4.30pm on Sky Sports. We might have to wait for the already lauded "Bale, Kane, Son" combo.
Of course, we are now living in times when no ordinary fan may watch their idols in live action. Now the Premier League has again decreed there will be no free rides when it comes to watching our teams play, even during the pandemic. Indeed, during the last two weeks, Spurs had been due to host high profile NFL games, long since cancelled. Fans of American and UK Football may look to sites such bet-delaware.com for their sports betting action, and sometimes a chance to view live action too.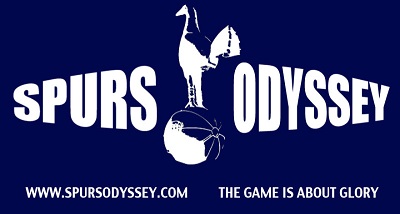 THFC would not allow me the fly the Spurs Odyssey flag in the stadium for these behind closed doors games but it will feature in my match report!
After what was a hectic first three weeks of the season for most teams (West Ham had three league cup games as well as the four Premier League matches), and a busy time for most of our squad on International duty, we face another busy three week spell of seven games before another interruption for International games. West Ham won't have such a burden because they lost their last league cup tie, and they are not in Europe.
In fact, West Ham have 12 games to play in the remainder of 2020, whilst Spurs will play 19 games including 6 Europa League fixtures and a Carabao Cup quarter-final. The "Hammers" were well beaten in this competition by Everton, and their most recent attempt to reach a European Group Stage ended at the Europa League qualifying stage four years ago. In Premier League years, West Ham's only European dalliances have been in the 1999-2000 and 2006-07 UEFA Cup.
In 1999, having finished fifth and managed by Harry Redknapp, West Ham qualified via the Intertoto Cup for the UEFA Cup proper. They were deemed Intertoto Cup winners but didn't get past the second round of the UEFA Cup. Their team against Steua Bucharest in their last game included future Chelsea stars (and the current manager) Joe Cole and Frank Lampard and the likes of Rio Ferdinand and Paolo Di Canio.
West Ham qualified for the 2006-07 competition by losing the FA Cup Final to Liverpool (on penalties after a late equaliser by Gerrard to make the full-time score 3-3). That route to Europe is no longer available. With Alan Pardew now at the helm the "Hammers" were eliminated from Europe at the first hurdle, and Pardew was sacked before Christmas with relegation a real threat. This was the season when we had that dramatic 4-3 win at Upton Park, but West Ham just avoided the drop. Mark Noble was playing then, and although he has only made one league start so far, he is still there and has been club captain for a few years now too. Noble has amassed 443 Premier League appearances.
West Ham crept into the Europa league in 2015 (that was a fair play ticket) and by finishing 7th in the Premier League got an early entry the following season. Both times they were eliminated before the Group Stages by the same team - FK Astra Giurgiu of Romania. Slaven Bilic was the West Ham manager in both those seasons, and even now, 120 years after their first manager, the "Hammers" must have one of the shortest lists of managers of any professional football club, numbering 17 - including both of David Moyes' appointments.
West Ham do have a pedigree of course and were only the second British team (after Spurs) to win a European competition (also the Cup-Winnersí Cup). It's been a long time since any major trophy success though, which was the FA Cup in 1980. "Hammers" fans will never let the world forget that "they won the World Cup" with Moore, Hurst, and Peters in 1966!
West Ham are not the first club to visit the new Tottenham Hotspur Stadium three times. Everton achieved that on the opening day of this season. Everton beat us last month and of course the "Hammers" love to gloat about the fact that they were the first team to beat us at our new home. That was in front of 60,000 fans, sadly absent in the current situation. Antonio took great delight in scoring the only goal of that game.
West Ham had a dismal start to the season, losing at home to a Newcastle side who scored with their only two shots on target. Then the "Hammers" lost at the Emirates, but as they often do in Derby games, they took Arsenal close. In their last two league games West Ham smashed Wolves 4-0 and then surprised us all (not least their opponents) with a 3-0 win at The King Power Stadium. If we hadn't beaten Manchester United, we would have been below our rivals for this game.
West Ham were quiet during the transfer window. Skipper Mark Noble was upset that West Brom signed Grady Diangana on a full contract. The "Hammers" made last season's loan signing of midfielder Tomas Soucek a permanent deal and have since signed another Czech - Slavia Prague right back Vladimir Coufal (aged 28) for £5.4 million. West Ham this week signed centre-back Craig Dawson on a season-long loan from Watford, and by the time you read this will probably have secured Brentford's Said Benrahma.
Spurs are still hoping to shore up their defensive forces with Swansea's Joe Rodon, but of course Mr. Levy is reported to be bartering over a fee. Eric Dier could be a doubt due his tight hamstring sustained with England.
If there is not an early goal, which of course I hope for - from Spurs - this could turn into a reluctant defensive battle of wits between two sides whose successes have often been founded on quick counter-attacks this season. Of course, I am backing Spurs to win 3-1. In truth, both teams are probably saying "Bring it on!"
This will be match referee Paul Tierney's seventh game in charge of Spurs. The first of these was our FA Cup 5th Round replay against Rochdale played at Wembley in February 2018. We won 6-1, but the game was plagued with VAR confusion. This was a time when sparse information was transmitted to those in the stadium. Mr. Tierney's last Spurs game in the middle was a 0-0 draw at Bournemouth in July. Mr Tierney refereed a West Ham away game on this weekend last year when the "Hammers" lost 2-0 to Everton.
∑ Spurs Odyssey - West Ham Archive Extracts
∑ Spurs record in recent London Derby League matches