· Last season's game - Spurs 4 Crystal Palace 1, 07.03.21
· This season's away game - Crystal Palace 3 Spurs 0, 11.09.21
· Premier League Matchday 19 - last year
· See the current injury list for all Premier League Teams
· All the Spurs Stats you could hope for here! THFC6061 Sports Stats


Full Record of Spurs -v- Crystal Palace

Prem        Pl   W   D   L  For-Ag  Pts
Home        12   7   4   1  18 - 5   25
Away        13   7   3   3  17 -14   24
=======================================
Total(Prem) 25  14   7   4  35 -19   49  1.96 Pts per game
=======================================
Football Lge
Home(Div 1)  9   5   2   2   14 -6   12
Away(Div 1)  9   5   3   1   16 -9   14
=======================================
Total(Div 1)18  10   5   3   30 -15  26
=======================================
Football Lge  
Home(Div 2)  1   0   1   0    2 -2    1
Away(Div 2)  1   1   0   0    2 -1    2
=======================================
Total(Div 2) 2   1   1   0    4 -3    3
=======================================
Total(Prem) 25  14   7   4   35 -19  49
Total(Div 1)18  10   5   3   30 -15  26
Total(Div 2) 2   1   1   0    4 -3    3
=======================================
Grand Total 45  25  13   7   69 -37  78
======================================= 

Last Six Premier League results:-

Spurs      -    LDWWWD
           
Spurs      0-3    Man Utd
Everton    0-0    Spurs
Spurs      2-1    Leeds
Spurs      2-0    Brentford
Spurs      3-0    Norwich
Spurs      2-2    Liverpool

C. Palace  -    DLLLWD

Burnley    3-3    C. Palace
C. Palace  1-2    A. Villa
Leeds      1-0    C. Palace
Man Utd    1-0    C. Palace
C. Palace  3-1    Everton
C. Palace  2-2    S'hampton

Pos           P  W  D  L   F-A   GD  Pts
 7. Spurs     15  8  2  5  18-19  -1   26
11. C. Palace 17  4  8  5  24-24   0   20

A special memory and hope for the future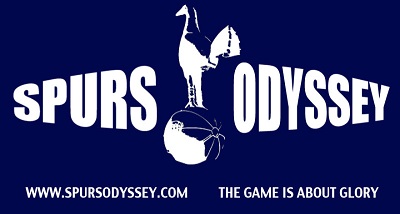 Due to the anomalies of having had three games postponed due to Covid, all of which were away from home, this will be our fifth consecutive home league game. Antonio Conte is unbeaten in his five league games in charge of Spurs so far and in all 6 games played under his leadership at home since his appointment. At the time of writing (Christmas Eve morning) two Boxing Day games have already been lost to Covid. Spurs have this morning confirmed that our game against Palace will be televised by BT SPORT. Let's hope that despite Covid and the challenge of travel on Boxing Day, we can see a great game and have a bumper crowd at our wonderful stadium!
This is just Palace's 24th season in top flight football, 13 of which have been in the Premier League. Perhaps therefore, it is not such a surprise to find we have played each other on Boxing Day on only one other occasion. That was in Palace's very first top flight season in 1969. Spurs won the game 2-0 with goals by Steve Perryman and Alan Mullery. Steve had only made his Spurs debut that season and in his 14th game which was the first after his 18th birthday, Stevie scored his first Spurs goal. The "Skipper" turned 70 last Tuesday.
Alan Mullery would go on to manage both Palace's nemesis Brighton and Palace themselves for two years after June 1982. "Mullers" even had a short spell back in charge of Brighton after 6 months at QPR in 1984.
Going back to 1969, Division One rookies Crystal Palace, managed by Bert Head, had lost 3 preceding games when they came to White Hart Lane. They lost 5-1 at home to Chelsea the next day. Having spent a lot of the season in 20th place (where they finished in a 22-team league), beating only 3rd Division Walsall in the FA Cup 3rd Round before facing Spurs in the infamous fourth round. We only drew at home and lost 1-0 in the replay at Selhurst Park. Steve Perryman was one of the players left out by Bill Nicholson after that defeat, but Bill made it clear he was preserving and protecting the young Perryman, not punishing him. Jimmy Greaves never played for the Spurs senior team again.
Palace's 3-0 win in September was only their fourth Premier League win against Spurs in 25 such meetings, and matched their winning margin in January 2005. Iain Dowie and Martin Jol were the respective managers. One of Palace's goals then was a penalty (Andy Johnson). Wilfried Zaha scored from the spot in September. That was Zaha's 61st Premier League goal and his first against Tottenham. Zaha has scored four more league goals since, one of which was in Palace's last game against Southampton on 15th December.
That September game was Nuno's first league defeat, having won his first three games 1-0 and even winning the first Premier League manager of the month award of the season. Nuno's honeymoon was over as was his short Spurs career 11 games later. Nuno was never first choice for the job, and now we are enjoying resurgence under a top coach who gives us real hope for the future.
Midfielder Conor Gallagher (a Chelsea loanee) continues to impress for Patrick Vieira's men, for whom the win over Spurs was their first of the season. They've only won one of their last six games, and that was against a poor Everton side. Palace are one of four Premier League sides who have drawn 8 games. Hence they are (just) in the bottom half of the table. They have lost just one game to Covid.
Christian Benteke's goal in last season's home game was Palace's first league goal at Tottenham since December 2004 when Andy Johnson scored in a 1-1 draw. Jermain Defoe scored our goal. Spurs had been looking for a sixth successive Premier League win. Benteke is now 31 and a Palace veteran of over 150 League games. He scored 10 league goals last season, which was his best return for four seasons. Whilst being used more sparingly of late, Benteke has scored 4 in the Premier League this season, and offers threat as well as presence in and round the area.
I have to fancy Spurs to win this game, and I'll say 3-1, although Palace cannot be under-estimated and are more than capable of giving any team a good game. I will be driving 150 miles down the M1 (and back) to see this game. My report will probably not be posted until Monday morning. I sincerely wish all readers a very happy and healthy Christmas and 2022!
Match referee Jon Moss is scheduled to be in charge of Spurs for the 33rd time. Rather ominously, Mr. Moss was in the middle for our 3-0 away defeat to Palace in September. His other Spurs game in charge was our home win against Brentford. We have not been refereed by Mr Moss on Boxing Day before, but 7 years ago on 28th December he was in charge of a creditable 0-0 home draw against Manchester United.
· Spurs record in recent London Derby League matches