· Last season's game - Liverpool 2 Spurs 1, 16.12.20
· This season's home game - Spurs 2 Liverpool 2, 19.12.21
· Premier League Matchday 36 - last year
· See the current injury list for all Premier League Teams
· All the Spurs Stats you could hope for here! THFC6061 Sports Stats

Full league history - Spurs v Liverpool:-

Premier     Pl   W   D   L   For-Ag  Pts
Home        30  12   8  10   41 -43  44
Away        29   2   8  19   27 -59  14
========================================
Total(Prem) 59  14  16  29   68 -102 58  0.98 Pt per game
========================================
Football Lge
Home(Div 1) 49  24  10  15   71 -58  62
Away(Div 1) 49   4  14  31   38 -95  24
========================================
Total(Div 1)98  28  24  46  109 -153 86
========================================
Total(Prem) 59  14  16  29   68 -102 58
Total(Div 1)98  28  24  46  109 -153 86
========================================
Grand Total 157 42  40  75  177 -253 144
========================================

Last Six Premier League results:-

Liverpool  -    WWDWWW

Arsenal    0-2   Liverpool
Liverpool  2-0   Watford
Man City   2-2   Liverpool
Liverpool  4-0   Man Utd
Liverpool  2-0   Everton
Newcastle  0-1   Liverpool

Spurs      -    WWWLDW
           
Spurs      3-1    West Ham
Spurs      5-1    Newcastle
A. Villa   0-4    Spurs
Spurs      0-1    Brighton
Brentford  0-0    Spurs
Spurs      3-1    Leicester

Pos           P  W  D  L   F-A   GD  Pts
2. Liverpool 34 25  7  2  86-22  64   82
5. Spurs     34 19  4 11  59-39  20   61 

We've beaten one "super-club". Can we beat another?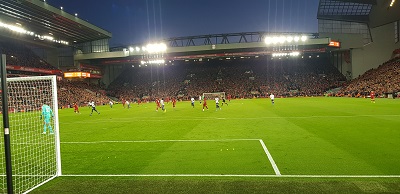 We all know what is riding on this game. Liverpool are one of two "super-clubs" battling for this year's Premier League title, which has been dominated by these two rivals for the last five seasons. City have won three of the four previous titles, interrupted by Liverpool in 2019/20 when, because of Covid regulations, they had to celebrate the trophy in an empty Anfield stadium. Our game (being shown by BT SPORT at 7.45pm tomorrow) is arguably Liverpool's biggest obstacle as they seek to overcome City's one point advantage. A win will take Jurgen Klopp's men to the top of the table again before City host Newcastle on Sunday. Spurs are in a battle for a Champions League place and must win this game to remain in control of their destiny. By winning this game and next Thursday against Arsenal we would regain fourth place before easier games against Burnley and relegated Norwich.
Liverpool, who came back to beat Villarreal 3-2 on Tuesday night, are still chasing a historic quadruple. Having already beaten Chelsea (on penalties) in February's League Cup final, they face Chelsea again in next week's FA Cup Final. Liverpool's remaining league opponents are Aston Villa and Southampton (away), and a last day home game against Wolves. City were chasing a treble until beaten in the FA Cup semi-final by Liverpool, and until the last minute of ordinary time on Wednesday night in The Bernebeu it looked as if they and Liverpool would be fighting it out for this year's Champions League. Two goals by Real super-sub Rodrygo and an extra-time Benzema penalty put paid to that. City's remaining league opponents are Newcastle (H), Wolves (A), West Ham (A), and Aston Villa at home on the last day.
Spurs achieved a historic league double over City with their 1-0 opening day home win and the incredible 3-2 away win in February. We've beaten one of these two "super-clubs." Can we beat another? The odds are not in our favour. Although, even in post Sheik Mansour days, we have maintained a good record over City, we haven't won at Anfield since May 2011 when our scorers were Rafa van der Vaart and Luka Modric. We even finished above Liverpool that season who lost their last game away to Villa while we beat Birmingham. That was the second of four consecutive seasons when we finished above "The Reds." We also managed it in 2014/15 and for another three seasons despite the October 2015 appointment of Jurgen Klopp. That was eight out of nine seasons when we were better. Even Manchester United were above them in 2017/18 and 2020/21, but that era is over.
Spurs haven't beaten Liverpool in ten games now. That includes our one stab at The Champions League Final three years ago. Liverpool have won the European Cup/Champions League 6 times and now have a tenth final (against Real Madrid) at the end of this month.
When we last played at Anfield in December 2020, it was a late Firmino goal that beat us, and knocked us off the top of the Premier League table.
There are a couple of interesting potential head-to-heads in this game, in additiom to Harry Kane's head-to head against Virgil van Dijk. My focus is upon Son Heung-min who is Mo Salah's closest contender for this season's Golden Boot. "Sonny"'s brace against Leicester took him to a career best 19 league goals in a season. Salah has 22 goals, which include 5 penalties whereas Son is not our penalty taker.
In his pre-match press conference, Antonio Conte said of Son:- "In this team, for sure Sonny we are talking one of the best players. To score goals and have a good performance, only one player can change the life of the team and for this reason I think Sonny is giving a lot to the team and the team is giving a lot to him to support him and score goals." Son is one of several nominees for April's player of the month award.
Then there is the comparison between two January signings for each club – Liverpool's Luis Diaz and our own Dejan Kulusevski. Both are capable of changing the game. Kulusevski is surely guaranteed a start whereas Klopp sometimes holds back the Colombian, in whom Spurs had shown an interest but were apparently gazumped.
Roberto Firmino is Liverpool's only injury doubt. He travelled with the squad to Villarreal this week but was not a named substitute. He will have a late fitness test, but of course Jurgen Klopp has many options regarding his front three. Conte now fears that Sergio Reguilon's groin injury will keep him out for the remainder of the season, thus joining Doherty, Tanganga and Skipp in the list of players whose main objective will be to start next season.
When we held Liverpool to a 2-2 draw in our December home match, Emerson Royal and Ryan Sessegnon were the wing-backs in our 5-3-2 formation. The starters also included Sanchez, Ndombele, Winks and Dele Alli. Tomorrow's team might be predictable, but it will be stronger. They might just spring a surprise and cause heartache at Anfield. My prediction however is for a 2-1 defeat.
Did you know? Liverpool were the last League Champions over whom Spurs won a league "double" before Man City this season? On 11th October 1986, we won 1-0 at Anfield with a Clive Allen goal. On 22nd March 1987, Chris Waddle scored our goal at White Hart Lane in another 1-0 win. Former Liverpool idol Ray Clemence was in the Spurs goal for both games. Our May 2011 win at Anfield completed the only league double for Spurs since 86/87.
Match referee Michael Oliver gets plenty of big games these days. Last week he was in charge of Feyenoord's Europa Conference League semi-final against Marseille. He was also in charge of Liverpool's 3-2 FA Cup semi-final win over Manchester City. Mr. Oliver has been refereeing Spurs games since Jauary 2011, but remarkably this is the first time we've seen him in the middle this season. His last Spurs game was a year ago - almost to the day - when we lost 3-1 at Leeds. This will be his fourth game in charge when Liverpool and Spurs have met. The last such occasion was in September 2018 when we lost 2-1 at home (at Wembley). Mr. Oliver's two assistants were then, and are now Stuart Burt and Simon Bennett.