· Last season's game - Spurs 3 Crystal Palace 0, 26.12.21
· This season's away game - Crystal Palace 0 Spurs 4, 04.01.23
· Premier League Matchday 35 - last year
· See the current injury list for all Premier League Teams
· All the Spurs Stats you could hope for here! THFC6061 Sports Stats


Full Record of Spurs -v- Crystal Palace

Prem        Pl   W   D   L  For-Ag  Pts
Home        13   8   4   1  21 - 5   28
Away        14   8   3   3  21 -14   27
=======================================
Total(Prem) 27  16   7   4  42 -19   55  2.03 Pts per game
=======================================
Football Lge
Home(Div 1)  9   5   2   2   14 -6   12
Away(Div 1)  9   5   3   1   16 -9   14
=======================================
Total(Div 1)18  10   5   3   30 -15  26
=======================================
Football Lge  
Home(Div 2)  1   0   1   0    2 -2    1
Away(Div 2)  1   1   0   0    2 -1    2
=======================================
Total(Div 2) 2   1   1   0    4 -3    3
=======================================
Total(Prem) 27  16   7   4  42 -19   55
Total(Div 1)18  10   5   3   30 -15  26
Total(Div 2) 2   1   1   0    4 -3    3
=======================================
Grand Total 47  27  13   7   76 -37  84  1.78 Pts per game
======================================= 

Last Six Premier League results:-

Spurs      -    DWLLDD
           
Everton    1-1    Spurs
Spurs      2-1    Brighton
Spurs      2-3    B'mouth
Newcastle  6-1    Spurs
Spurs      2-2    Man Utd
Liverpool  4-3    Spurs

C. Palace  -    WWWDLW   

C. Palace  2-1    Leicester
Leeds      1-5    C. Palace
S'hampton  0-2    C. Palace
C. Palace  0-0    Everton
Wolves     2-0    C. Palace
C. Palace  4-3    West Ham

Pos            P  W  D  L   F-A   GD  Pts
 7. Spurs     34 16  6 12  63-57   6   54
11. C. Palace 34 10  9 14  35-45 -10   40

Palace visit Tottenham on a historic day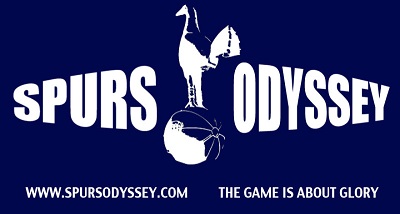 "The great fallacy is that the game is first and last about winning. It's nothing of the kind. The game is about glory. It is about doing things in style, with a flourish, about going out to beat the other lot, not waiting for them to die of boredom." - Danny Blanchflower
By the time Spurs and Crystal Palace kick off (3pm Saturday), the coronation of King Charles III will have taken place in central London. The event lends itself to one or two obvious headlines for your humble webmaster and I just hope I can write it in favour of our team.
No game is straightforward for Spurs at this time and certainly not predictable! Ryan Mason in his interim coaching position has at least got more fight out of the team in his first two games, but Spurs are still failing to open games well and struggling to please their fans.
Palace have had a remarkable turn round since Roy Hodgson (who we all thought had finally retired last year) replaced Patrick Vieira in March. Vieira's last game was a 4-1 defeat to his former club Arsenal, but the reason for his dismissal was the fact Palace had not won a single game in the calendar year and were slipping too close to the relegation zone in terms of points gained.
After seemingly retiring at the end of his last term of office with Palace two years ago, Roy tried and failed to save Watford last season. With six-game form that is far better than that of Tottenham, including a sensational 5-1 away win against Leeds, Roy has lifted Palace one place, but ten points better off than the bottom three. Palace have achieved the so-called magical 40 point mark, but in reality, safety has been attained with less in recent years.
Talisman Wilfried Zaha missed Hodgson's first four games of this period, but even Jordan Ayew has scored three goals in this run, two of which were against Leeds. Ayew had scored one other league goal this season. Players such as Eze, Edouard and Olise have come to the fore and served their new manager well. You could say Hodgson released the hounds!
Roy Hodgson was born at Croydon in August, 1947 and was on Palace's books as an 18-year-old, but never made a first team appearance. Indeed, Roy's playing career was outside the Football League, and he is renowned as a manager, having started that career in Sweden in 1976. In total he has had charge of 16 clubs and four International teams. Roy's first stint at Palace began in 2017.
As a result of their recent run, Palace will approach this game in a far more relaxed frame of mind than Spurs who now have to fight desperately for any place in Europe, having slipped to seventh place after midweek wins for Liverpool and Brighton.
Palace have several entries in the annals of Spurs history. Jimmy Greaves played his last first team game for Spurs in what was considered a disgraceful FA Cup exit in 1970 when Palace were Division One rookies and relegation candidates. In November 1997, after Gerry Francis had been sacked and Chris Hughton was caretaker for one game, we were beaten at home by a Neil Shipperley goal. Christian "Hard werk" Gross was about to take over as our manager.
The first of Heung-min Son's 103 Premier League goals was scored on 20th September, 2015 against Crystal Palace at White Hart Lane. Hugo Lloris, Eric Dier and Harry Kane also played in that game. Son made history by scoring the first Premier League goal at our new stadium – also against Crystal Palace – in a 2-0 win on 3rd April, 2019. In our next game, at home to Manchester City in the Champions League quarter-final, "Sonny" scored the only goal. He also scored our first two goals in the dramatic "away goals" win.
Harry Kane is one shy of 100 Premier League home goals and would become the first player in the competition to reach a century of goals both home and away. Kane's 109 away Premier League goals (to date) is an increasing record. Harry scored two goals in our 4-0 win at Selhurst Park in January when Matt Doherty scored his last Spurs goal before departing for Atletico Madrid. Son scored our fourth goal. This was the sixth time we have scored four against Palace and the 4-0 scoreline matches two previous results. Firstly, in a January 1987 FA Cup tie, and recently (in September 2019) in the Premier League when Son scored two of our goals.
Spurs have conceded a league-high 13 goals in the opening 15 minutes of Premier League matches this season, while only three teams have ever conceded more in this period in a single campaign in the competition – Wolves in 2011-12 (16), Ipswich in 1994-95 (15) and Sheffield United in 1993-94 (14) - all of whom were relegated!
I anticipate quite an open and attacking game and hope for a 3-1 win for Spurs. I have yet to see up to date team news, but I do not anticipate any radical change to the Spurs line-up. Ryan Mason has confirmed that Hugo Lloris will not play again this season.
This will be match referee Darren England's third game in charge of a Spurs game and his first senior game in the middle with us this season. Mr. England did referee our December friendly game at Hotspur Way against Motherwell when we were warming up towards the end of the World Cup hiatus.
Did you know? John Bostock, once of Crystal Palace and Spurs has been playing for Notts County this season. If selected, Bostock, who is now 31, could play in County's National League play-off semi-final on Sunday, and if they win, the final at Wembley. Notts County have been forced to go through the play-off route to a return to the Football League despite an amazing 107 points in their 46 league games. Promoted champions Wrexham amassed 111 league points. Bostock scored direct from a free kick in Notts county's recent 3-2 defeat at Wrexham which effectively decided first and second places.
· Spurs record in recent London Derby League matches