· Last season's game - Southampton 1 Spurs 1, 28.12.21
· This season's home game - Spurs 4 Southampton 1, 06.08.22
· Premier League Matchday 28 - last year
· See the current injury list for all Premier League Teams
· All the Spurs Stats you could hope for here! THFC6061 Sports Stats


Full Record of Spurs -v- Southampton

Prem         Pl    W   D   L   For- Ag  Pts
Home         24   18   2   4   59 - 27  56
Away         23    7   6  10   29 - 28  27
==========================================
Total(Prem)  47   25   8  14   88 - 55  87  1.85 Pts per game
==========================================
Football Lge
Home(Div 1)  22   13   4   5   52 - 28  38
Away(Div 1)  22    6   8   8   25 - 35  24
==========================================
Total(Div 1) 44   19  12  13   77 - 63  62
==========================================
Football Lge
Home(Div 2)  14    9   3   2   41 - 12  21
Away(Div 2)  14    2   5   7   12 - 17   9
==========================================
Total(Div 2) 28   11   8   9   53 - 29  30
==========================================
Total(Prem)  47   25   8  14   88 - 55  87
Total(Div 1) 44   19  12  13   77 - 63  62
Total(Div 2) 28   11   8   9   53 - 29  30
==========================================
Grand Total 119   55  28  37  218 -147 172
==========================================

Last Six Premier League results:-

S'hampton  -    LWLWDL

S'hampton  1-2    Wolves
Chelsea    0-1    S'hampton
Leeds      1-0    S'hampton
S'hampton  1-0    Leicester
Man Utd    0-0    S'hampton
S'hampton  0-2    Brentford     

Spurs      -    WLWWLW
           
Spurs      1-0    Man City
Leicester  4-1    Spurs
Spurs      2-0    West Ham
Spurs      2-0    Chelsea
Wolves     1-0    Spurs
Spurs      3-1    Nottm Fst

Pos             P  W  D  L   F-A   GD  Pts
 4. Spurs      27 15  3  9  49-37  12   48
20. S'hampton  27  6  4 17  20-43 -23   22   

Let's not be sinners against "The Saints"!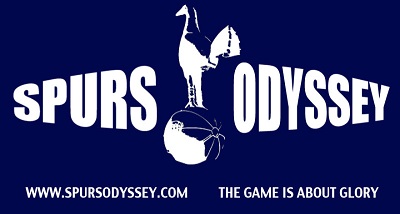 We had hoped to be in this weekend's FA Cup quarter-finals, but our failure to beat Sheffield United two and a half weeks ago was just one of our recent disappointments. Instead of fighting for Cup glory, we find ourselves travelling to the South coast facing an out of form, bottom of the league Southampton side, in pursuit of our one remaining ambition – to retain a place in the top four.
Despite their lowly position and the very real danger of dropping back to the Championship for the first time since 2012, "The Saints" have had their successes recently. In the league, they held 10-man Manchester United to a goalless draw at Old Trafford last week. Former Spur Kyle Walker-Peters was one of those who hit the woodwork in that game. More famously, Southampton beat Chelsea 1-0 at Stamford Bridge exactly one month ago. That was a win which gave rise to massive celebrations for the players, coaching staff and the travelling fans.
Southampton had their successes on both domestic cups too. They conquered Manchester City to reach the League Cup semi-final but lost to Newcastle. In the FA Cup, they reached the fifth round, like us, but suffered the ignominy of a home defeat to League Two side Grimsby – inflatable haddocks and all!
Form (we have won four of our last six league games) would suggest we should win this game, but we do need to beware of a team which had produced several surprising results this season, and one which is desperate for league points. Spurs' home win against Southampton was one of our most comfortable wins of the season and was played on the opening day in August. It was our biggest opening day Premier League win.
Southampton played a midweek game on Wednesday night, and lost 2-0 at home to Brentford, who therefore had a league double over their opponents with a 5-0 aggregate scoreline.
When we played in August, Ralph Hasenhuttl was Southampton's manager, but he was sacked in November and Luton's Nathan Jones took over. Jones was not a good fit and the day after a 2-1 home defeat to 10-man Wolves in February, Jones was sent on his way. 39-year-old Spanish coach Ruben Selles was given interim charge of "The Saints" following the dismissals of both Hasenhuttl and Jones, and has now been given the job on a full-time basis. The Chelsea win was the first game after the sacking of Nathan Jones.
Southampton's September 1st deadline business included the signing of Arsenal's Ainsley Maitland-Niles on loan, and another Manchester City youth player, Samuel Edozie (now 20). They also signed 18-year-old Spanish defender Larios from City. Another deadline day acquisition was for 25-year-old defender Duje Caleta-Car from Marseille.
In January Southampton completed the signing of Carlos Alcaraz from Argentine side Racing Club. The 20-year-old midfielder signed a 4½-year contract at St Mary's and followed the arrival of Croatia winger Mislav Orsic. "The Saints" also signed defender James Bree from Luton Town on a three-and-a-half-year deal. The 25-year-old left Aston Villa for Luton in 2019, where he played under Nathan Jones.
On deadline day Southampton signed Rennes and Ghana winger Kamaldeen Sulemana for a club-record fee of £22m. The 20-year-old, who primarily plays on the left, signed a four-and-a-half-year deal, keeping him at the club until 2027. Sulemana made three appearances at the World Cup in Qatar and was recorded running at 35.7kph (22.2mph) during the tournament, the quickest speed of any player. The Saints also signed striker Paul Onuachu, 28, from Genk until 2026.
Our very first Premier League game in 1992 was away to Southampton and was drawn 0-0. At the time Spurs were led by the partnership of Ray Clemence and Doug Livermore. Southampton's goalkeeper was Tim Flowers, whilst Ian Walker was between the sticks for Spurs. Fraser Forster will be playing against his former club for the first time since his transfer to Spurs last summer. Fraser, who made a total of 162 appearances for "The Saints" was on the bench for our home game in August.
Emerson Royal sat out last week's win against Forest after suffering a knock in the Milan game but should be in tomorrow's squad. Pedro Porro impressed and might get the nod again. Spurs' injury situation is otherwise unchanged, but we will hopefully see some progress after the International break.
Spurs are under pressure from their pursuers and a win is vital to maintain their present hold on fourth place. My prediction is for a 2-0 away win. The game kicks off at 3pm tomorrow (Saturday) and is not one selected for live TV coverage in the UK.
Before this season we hadn't met referee Simon Hooper as the man in the middle. Now, he is already in charge of Spurs for the fifth time this season, and more than any other official. He is being kept busy and this will be Mr. Hooper's 20th Premier League game of the season. He's been in charge of several big matches too, including both of our Manchester away games.
Did you know? - Southampton's 1-0 win at Stamford Bridge in February was their fifth away win against Chelsea in the Premier League! Spurs can only dream of such a record, with only one away win. Saints' previous wins came in 1995 (2-0), 2002 (4-2), 2015 (3-1), 2019 (2-0).