PREMIER LEAGUE
MONDAY 6TH NOVEMBER, 2023
(8PM)
TOTTENHAM HOTSPUR 1(1) CHELSEA 4(1)
Spurs scorer:-
Kulusevski, 6
Chelsea scorers:-
Palmer, 35 (pen)
Jackson, 75, 90+4, 90+7
Attendance:- 61,726
Referee:- Michael Oliver
Assistants:- Stuart Burt, Dan Cook
Fourth official:- Thomas Bramall
VAR:- John Brooks
Assistant VAR:- Dan Robathan
Teams:-
Spurs (4-2-3-1):- Vicario; Pedro Porro, Romero, Van de Ven (sub Hojbjerg, 45+1), Udogie; Sarr (sub Bentancur, 61), Bissouma; Kulusevski (sub Skipp, 61), Maddison (sub Emerson Royal, 45+1), Johnson (sub Dier, 34); Son (Capt.)
Subs not used:- Forster; Gil, Lo Celso, Richarlison
Booked:- Udogie (foul on Sterling), Sarr (unsporting conduct)
Sent off:- Romero, 33 (foul on Fernandez), Udogie, 55 (second yellow after foul on Sterling)
Chelsea (4-2-3-1):- Sanchez; James (Capt.) (sub Gusto, 77), Disasi, Thiago Silva, Colwill (sub Cucurella, 46); Caicedo, Fernandez (sub Mudryk, 58); Palmer, Gallagher, Sterling (sub Ugochukwu, 90+1); Jackson
(Armband to Gallagher)
Subs not used:- Petrovic; Badiashile, Maatsen; Madueke; Washington
Booked:- Jackson (foul on Sarr), Colwill (unsporting conduct), Gusto (foul on Emerson Royal), Mudryk (foul on Vicario), Ugochukwu (foul)
Light show, then red mist at Tottenham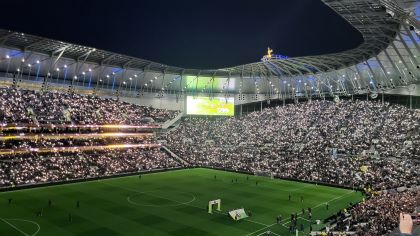 It had been as good a weekend as we could have hoped for. Arsenal had lost. Liverpool had dropped two points at Luton. Spurs were the last unbeaten team in the Premier League. If we could beat out-of-form Chelsea we would regain our place at the top of the table. No Spurs fan with an ounce of sense in his/her head was feigning confidence about beating Chelsea, against whom we have the poorest record in the Premier League.
The game was preceded by a magnificent telephonic light show and an emotional trumpet-led rendition of "Oh, when the Spurs".
I was surprised that former head coach Mauricio Pochettino was not formally announced and welcomed back to White Hart Lane.
There was a superbly observed remembrance, which featured two Chelsea Pensioners and a rendition of "The Last Post".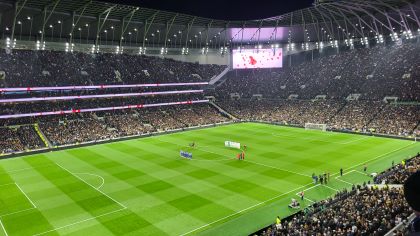 Chelsea kicked off facing south, but Spurs had a marvellous start to the game. Sarr had sent Kulusevski clear down the right and his cross was met by Son, whose shot was held, but an offside flag was raised. A goal soon followed with another quick pass by Sarr to Kulusevski who cut inside and scored with a left-footed shot across the keeper. The stadium was in raptures!
Brennan Johnson was making his first home start (in place of Richarlison) and had an early impact with a cross from the left. Chelsea struggled to clear, with both Kulusevski and Pedro Porro battling for the ball. Sanchez held Pedro Porro's left-footed shot.
Raheem Sterling was playing down the left side which was effective for Chelsea and when he passed inside to Jackson, Guglielmo Vicario made a great low left-handed save in front of the South Stand. It was the first of plenty of heroic interventions by our much-admired keeper. It looked as if Spurs had increased their lead when Johnson received on the left and his quickly-crossed ball was turned in by Son. The offside flag was raised, but we had to endure the first of several prolonged VAR considerations. This one confirmed the offside decision.
Udogie received an early booking for a foul on Sterling. VAR even reviewed this incident for a possible red card, but the yellow card stood. It looked as if Chelsea had equalised when Sterling got the better of Pedro Porro and scored across Vicario, but VAR found the former City man had handled the ball in the process. This brought back memories of the dramatic conclusion to the 2019 Champions League quarter-final at The Etihad when VAR denied Sterling what would have been a winning goal.
On a night subsequently littered with cards, it sounds crass to say that referee Michael Oliver seemed to be letting a lot go, often to the disadvantage of Spurs. The first of a couple of long shots by Enzo Fernandez passed wide. Spurs defended a Chelsea free kick with some determined headers, but confusion and a particularly lengthy VAR consideration soon followed.
Caicedo had hit a long low left-footed shot inside Vicario's right post, but VAR decided Jackson had been involved in the play after Sterling had again crossed from the left. Previously VAR decisions had been displayed on the big screens but I don't remember confirmation of the offside being announced. What did happen was that the process then considered a possible penalty and dangerous play by Romero for a foul in the box on Fernandez. Michael Oliver went to the monitor and had a word with Son before showing Romero a straight red card.
Johnson was sacrificed and Eric Dier made his first appearance of the season. Palmer converted the penalty. The offending tackle was shown on the screen and home fans thought Romero had got the ball, but most pundits agreed with the decision. Vicario did get a hand on the ball, but it rebounded into goal off the inside of his left post.
Postecoglou was shown a yellow card after another disallowed goal for Chelsea when Jackson converted from Sterling's pass.
More disaster struck when Micky van de Ven chased back to defend and pulled up with what clearly looked like a bad hamstring injury. We'll be lucky to see him again before Christmas. He was replaced by Emerson and Maddison was also taken off with Hojbjerg filling his position. The substitutions were announced the other way round.
Spurs had lost both centre-backs, their playmaker and were down to ten men. We'd be glad to hold on to the point in this situation, but that was not to be. We had to endure a full 12 minutes of first half added time, during which Vicario parried away a dangerous cross by Reece James. James was a threat and another cross was cleared.
Kulusevski desperately tried to get a touch onto a Pedro Porro cross, but the ball passed safely wide. Jackson was booked for a lunging tackle on Sarr and both Colwill and Sarr saw yellow for some "afters". Udogie seemed to take an elbow in the face along the touchline and VAR reviewed that, but James didn't even get a yellow.
On-field relations between these two sides seem to be on a permanent "war-footing"! Poch knows all about that too.
The second half eventually arrived and Palmer had an early shot go close, passing just outside Vicario's right post. The ten men were being roared on by the home crowd as they tried to take the game to their opponents. Kulusevski found Sarr with a good ball, but Sarr's attempted pass to Son failed. Bissouma had a shot blocked after good effort by Royal and Kulusevski.
Sterling was now attacking down the right side and Udogie was drawn into making a desperate and rash challenge which brought him a second yellow. Now we were nine. After Chelsea's free kick, Hojbjerg did brilliantly to somehow head Jackson's close-range header over the bar. Vicario made a sensational double save to deny Jackson and Palmer before the offside flag was eventually raised. The home crowd was roaring again.
Our final substitutions saw Bentancur on for Sarr and Skipp for Kulusevski. We'd used all available resources. Hero Vicario had made several defensive interventions and needed treatment after a brilliant one-on-one save from Cucurella. How would we deal with an injury? Happily he recovered and Spurs were still level. Sadly, that didn't last.
Spurs were playing a high line, but were vulnerable against the pace of Sterling and Jackson. Sterling broke clear and ted up Jackson for an easy finish with Vicario on his own. There was yet another prolonged VAR check, but the goal stood.
Spurs hit what looked like a fantastic equaliser when Bentancur flicked on a Pedro Porro free kick and Dier slammed the ball high into the net, but that effort was ruled offside and confirmed by VAR. Bentancur had an effort go wide after another Porro free kick. Mudryk was booked for his challenge upon the fearlessly advancing Vicario.
Another 9 minutes were added, during which Jackson added another two goals to cement another Chelsea win over Tottenham. The 9 men received a fantastic ovation from the remaining home fans, but by this time I was on the platform at White Hart lane where there was a stony and sullen silence.
We are still second, but it will be a severely weakened and wounded side that opens next weekend's programme on Saturday lunchtime at Molineux.
. Spurs record in recent London Derby League matches
. Squad numbers,appearances,bookings & goalscorers
. Read the preview for this game.
. All the Spurs Stats you could hope for here! THFC6061 Sports Stats