. Last season's game - Spurs 2 Chelsea 0, 26.02.23
. Premier League Matchday 11 - last year
. See the current injury list for all Premier League Teams
. All the Spurs Stats you could hope for here! THFC6061 Sports Stats

Full League Record of Tottenham Hotspur -v- Chelsea

Premier      Pl   W    D    L    For-Ag  Pts
Home         31   7   10   14    36- 51  31
Away         31   1   11   19    23- 59  14
===========================================
Total (Prem) 62   8   21   33    59- 110 45  0.72 Pts per game
===========================================
Football Lge
Home (Div 1) 42  20    9   13    79- 57  51
Away (Div 1) 42  19    6   17    63- 50  46
===========================================
Total(Div 1) 84  39   15   30   142-107  97
===========================================
Football Lge
Home (Div 2)  2   1    1    0     7-  4   3
Away (Div 2)  2   0    1    1     1-  4   1
===========================================
Total(Div 2)  4   1    2    1     8-  8   4
===========================================
Total (Prem) 62   8   21   33    59- 110 45
Total(Div 1) 84  39   15   30   142-107  97
Total(Div 2)  4   1    2    1     8-  8   4
===========================================
Grand Total 150  48   38   64   209-225 146
===========================================

Last Six Premier League results:-

Spurs       -     WDWWWW
           
Spurs      2-1    Sheff Utd
Arsenal    2-2    Spurs
Spurs      2-1    Liverpool
Luton      0-1    Spurs
Spurs      2-0    Fulham
C. Palace  1-2    Spurs

Chelsea     -     DLWWDL

B'mouth    0-0    Chelsea
Chelsea    0-1    A. Villa
Fulham     0-2    Chelsea
Burnley    1-4    Chelsea
Chelsea    2-2    Arsenal
Chelsea    0-2    Brentford 

Pos           P  W  D  L   F-A   GD  Pts
 1. Spurs    10  8  2  0  22-9   13   26
11. Chelsea  10  3  3  4  13-11   2   12

More fireworks please Spurs!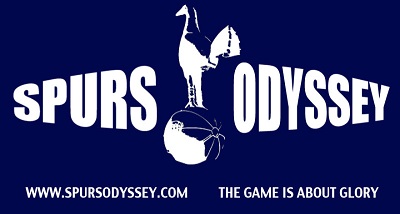 "The great fallacy is that the game is first and last about winning. It's nothing of the kind. The game is about glory. It is about doing things in style, with a flourish, about going out to beat the other lot, not waiting for them to die of boredom." - Danny Blanchflower
Having led the Premier League table once again going into the weekend, the chances are that results mean we will be playing catch-up against one of our greatest Premier League rivals - Chelsea. There is added spice with the return of our former coach Mauricio Pochettino, who accepted the Chelsea job last summer. I am sure that he (but not his team) will get a great welcome.
Our points-per-game record against Chelsea is worse than that against any other Premier League side. We have managed less than a point a game against three of our fellow ever-present Premier League rivals - Chelsea, Manchester United and Liverpool. This game (SKY'S Monday Night Football - 8pm) is being played just one day after the 17th anniversary of our momentous first Premier League win over this team when Michael Dawson and Aaron Lennon gave us a famous Guy Fawkes Day win. More fireworks from Spurs would be most welcome on Monday!
With 7 London sides in the top flight this season, the 12 resulting London derbies form almost one third of the season's programme. Both clubs are playing their third consecutive London Derby league games. Chelsea previously played Arsenal and Brentford, while Spurs played Fulham and Crystal Palace. The only trip Spurs have made outside the M25 since September 2nd was to Luton, and we travel to the Midlands next Saturday to play Wolves.
Mauricio Pochettino was formally announced as Chelsea's new manager on Monday 29th May. His appointment commenced on 1st July. Apparently, one of Pochettino's first decisions was to let loanee Joao Felix return to Atletico Madrid. Felix had arrived in January and scored just four goals in 16 Premier League appearances.
N'Golo Kante left for Saudi Arabian side Al-Ittihad - wages reported at 86 million p.a. Other Chelsea players joining the exodus to Saudi clubs were Kalidou Koulibaly (to Al-Hilal) and goalkeeper Edouard Mendy (to Al-Ahli).
The pruning of Chelsea's massive squad continued with Mateo Kovacic going to treble winners Manchester City, Kai Havertz being signed by Arsenal and Ruben Loftus-Cheek going to AC Milan. Former club captain Cesar Azpilicueta was granted a free transfer to Atletico Madrid. Azpilicueta was one short of 350 Premier League appearances for the club.
Another departure, announced on 5th July was Mason Mount to Manchester United for 55 million plus potential add-ons. On 13th July the sale of Christian Pulisic to AC Milan was confirmed. Aubameyang left Chelsea for Marseille.
The club's unprecedented spending on fees over the last three transfer windows - Chelsea have spent around a billion pounds and have broken the British transfer record twice in the last year - brought pressure to generate sales.
The list of acquisitions is endless, and the current Chelsea side is unrecognisable from that which finished third (one place above Spurs) at the end of the 21/22 season. Chelsea finished 12th last season and were in 11th place prior to this weekend.
No less than 10 of the Chelsea side which lost 2-0 at Tottenham last season have moved on or are injured. Ollie Skipp scored a sensational first senior goal for the club and (inevitably) Harry Kane scored our second goal, becoming the first Spurs player to score at home and away against Chelsea since Gary Lineker in 1990/91.
Spurs' home win in February gave them their first top-flight win in nine meetings with Chelsea, and the first league win at the new stadium over their fierce West London rivals. Spurs also claimed four points in a season from Chelsea for only the second time in the Premier League, having last done so in 2008-09. On that occasion we drew away in August (Darren Bent scored our goal) and won 1-0 at home in March, thanks to a Luca Modric goal.
Mauricio Pochettino was Spurs' 31st different manager/coach and our 15th of the Premier League era. He has become Chelsea's 37th different manager/coach and their 23rd since the establishment of the Premier League. There have been four others in charge of both clubs (Glenn Hoddle, Andre Villas-Boas, Jose Mourinho and Antonio Conte), but Pochettino is the first to have managed Spurs before Chelsea.
Danny Blanchflower (Legacy number 420) famously played for Spurs and captained the double side and had a brief spell in charge of Chelsea between December 1978 and September 1979, which was his only period of management in the Football League. Danny was succeeded by World Cup winner Geoff Hurst, who stayed for 19 months, and he also did not manage another club.
Mauricio Pochettino's first signing was announced when 25-year-old Leipzig striker Christopher Nkunku was signed for a reported 50 million fee. Christopher Nkunku had surgery to a knee injury sustained in Chelsea's pre-season in Chicago and could be out till December. Other injured absentees include centre-back Wesley Fofana (out for the season with ACL), Ben Chilwell, Trevor Chalobah, Carney Chukwuemeka and Romero Lavia. Fofana has managed just 15 Premier League appearances since his 70 million pound signing from Leicester last year.
Another major Chelsea signing was that of Brighton midfielder Moises Caicedo for a 100m fee that could rise to a British club record of 115m. Liverpool agreed a 111m deal for the 21-year-old Ecuador player on Friday, but Caicedo's preference was Chelsea. Brighton had signed Caicedo for just 4 million pounds in January 2021.
Ange Postecoglou held a press conference on Thursday. At that time, he held reservations about the fitness of both Destiny Udogie, saying:-
"We'll see how Destiny progresses," Ange said. "Obviously he's still got a few days before the Monday game. He's progressing through it but we'll assess him closer to it.
"Everyone else is okay. Ben Davies has got a bit of a knock so he hasn't trained with the team yet so (he's) unlikely for Monday but, again, we've still got a couple of days to go."
If need be, I would expect Emerson Royal to fill in at left-back, where has covered several times before. Despite Chelsea's recent inconsistency and poor form. I'm annticipating a difficult game, but predict a 2-1 home win!
A big match necessitates a senior referee, and Michael Oliver will be in charge of Spurs for the 48th time. Mr. Oliver's previous game this season was our 2-0 home win over Manchester United. Same again please, ref!
Did you know? - John Hollins, who died in June this year aged 76, played nearly 600 games for Chelsea between 1963 and 1975, and in one final season in 1983/84. Hollins was a member of Chelsea's 1967 FA Cup Final side which lost to Spurs. Four days after the FA Cup final he won his only England cap against Spain at Wembley. He returned to Chelsea after spells with QPR and Arsenal and was Chelsea's manager between 1985 and '88.
. Spurs record in recent London Derby League matches