PREMIER LEAGUE
MONDAY 23RD OCTOBER, 2023
(8PM)
TOTTENHAM HOTSPUR 2(1) FULHAM 0(0)
Scorers:-
Son, 36
Maddison, 54
Attendance:- 61,286
Referee:- Anthony Taylor
Assistants:- Gary Beswick, James Mainwaring
Fourth official:- Graham Scott
VAR:- Paul Tierney
Assistant VAR:- Lee Betts
Teams:-
Spurs (4-2-3-1):- Vicario; Pedro Porro, Romero, Van de Ven, Udogie (sub Emerson Royal, 56); Sarr (sub Skipp, 62), Hojbjerg; Kulusevski, Maddison (sub Veliz, 82), Richarlison (sub Johnson, 81); Son (Capt.) (sub Lo Celso, 82)
(Armband to Romeiro)
Subs not used:- Forster; Dier, Phillips; Gil
Booked:- Hojbjerg (foul on Willian), Vicario (time)
Fulham (4-2-3-1):- Leno; Castagne, Bassey, Ream (Capt.), Robinson; Lukic (sub Reed, 72), Palhinha (sub Cairney, 82); De-Cordova Reid (sub Wilson, 62), Pereira (sub Iwobi, 46), Willian; Vinicius (sub Jimenez, 46)
Subs not used:- Rodak; Ballo-Toure, Fougerolles; Muniz
No bookings
Son and Maddison give Fulham the old one-two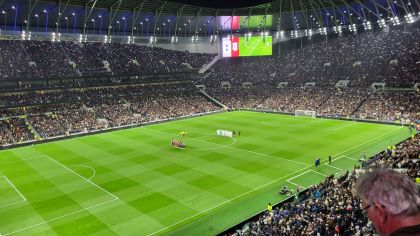 Goals by skipper Heung-min Son and ace playmaker James Maddison saw off a moderate Fulham side to send unbeaten Spurs back to the top of the table two points clear of nearest rivals Manchester City and Arsenal.
Some Spurs fans might still be pinching themselves at this unprecedented lofty position after 9 Premier League games, but others are becoming used to the situation. We all need to keep our feet on the ground following head coach Ange Postecoglou's example. "Big Ange's" one change was enforced with Hojbjerg replacing the suspended Yves Bissouma.
Spurs dominated the first half, playing plenty of skilful, adventurous and entertaining football, but Vicario was probably more exercised than Leno in goal as Fulham threatened with intermittent attacks.
Willian was booed with every touch, perhaps not so much for his Arsenal connection, but the fact he snubbed us at the last minute when signing for Chelsea 10 years ago. After all, Leno and Iwobi (both formerly of Arsenal) were left alone by the fans.
There was a period of silence before the game with regard to "innocent victims" of the conflict between Israel and Gaza. The players also took the knee before kick-off. Sir Bobby Charlton (whose passing was announced on Saturday afternoon) was remembered with affection at half-time by Pat Jennings and Martin Chivers. I am sure next weekend's fixtures will see the official commemoration of such a much-revered England and Manchester United footballer.
Fulham kicked off, playing towards the South Stand, but Spurs had a great early chance when Maddison put in Son, who might have scored, but saw his shot blocked by Leno. Referee Anthony Taylor awarded a free kick for a foul on Maddison, who took the kick, feeding Udogie, but Fulham cleared.
Spurs were camped in the Fulham half with inverted full backs Pedro Porro and Udogie such an integral part of our strategy. Maddison was fouled again, this time by Palhinha. The Spurs number 10 hit a 30-yard free kick into the box where Romero headed the ball across, but Micky van de Ven fired over.
Pedro Porro went down in the box after Robinson's foul, but the referee deemed the foul to have been just outside the area. VAR agreed. This time Maddison teed up Kulusevski, but his shot was blocked. Fulham won a corner from a De-Cordova Reid cross, cleared by Romero. Pereira took the kick and Vicario made a terrific left-handed diving save from a Palhinha header. Spurs had a free kick as Van de Ven had been fouled in the follow-up play. Vicario cleanly held a subsequent Fulham corner, taken from the left after Willian's foray.
Attractive and clever as Spurs' football could be, sometimes, simpler passes might have been more beneficial. A powerful drive by Hojbjerg from some 28 yards was held by Leno. Richarlison (playing on the left) and Maddison had been involved in good build-up play.
Maddison led a Spurs break forward and passed to Kulusevski on the right. Kulusevski found Richarlison who had also made ground, but his shot was wide of Leno's left post. Son hit a shot with little strength, held by Leno, after another sharp pass from Maddison. Richarlison fed Udogie who tried to cut the ball back inside the box on the left and called for a handball, to no avail. Maddison hit an easy shot to Leno after interplay between Richarlison and Udogie.
Hojbjerg got the first of only two yellow cards on the night when he unfairly brought a charge by Willian to a halt. Spurs' first goal soon followed after a Fulham error and a sharp ball forward to Richarlison on the left. Fulham had been caught unawares and Son took Richarlison's pass, turning swiftly to his right before unleashing an unstoppable right-footer. It was Son's seventh goal of the season and his fiftieth in our new stadium. Remember "Sonny" had scored our first senior goal in the stadium (against Crystal Palace) in April 2019.
Minutes later, Spurs had two shots blocked (Udogie and Kulusevski) after some intricate passing football in and around the Fulham box. Pedro Porro nearly made contact with Richarlison's cross into the 6-yard area. Romero brought the ball forward after ending a Fulham attack and passed to Kulusevksi. It seemed he must score, but he was blocked, as was Maddison's attempt to capitalise. Another penalty appeal came to nought when Hojbjerg went down in the Fulham area.
Spurs had been worth far more than their one-goal half-time lead. Marco Silva (who still hasn't beaten Spurs in 8 attempts as manager) made two half-time changes, one of which was Jimenez for the ineffectual former Spur Carlos Vinicius.
Early in the second half, Hojbjerg sent Kulusevski away. He showed good skill before passing to Son, who teed up Richarlison to his left. "Richie" skied his shot.
Spurs soon had a two-goal lead though. This came from another Fulham error (Bassey). Hojbjerg quickly released Son who passed to Maddison to his left. Maddison scored his first home goal in our colours with a well-placed shot.
With Friday night's game at Palace in mind, Postecoglou soon started turning his thoughts to resting some players and Udogie was the first to be swapped as Royal took over his left back slot. Ollie Skipp replaced Sarr, who has become such an integral part of our midfield.
Consolidation was the aim now, and Spurs spent a lot of time on the ball in their own half. They had their moments still though, and I thought Royal was close to reaching a Maddison free kick into the Fulham area. Maddison nicked the ball off Bassey as Fulham tried to play out. Both Son and Richarlison tried to take advantage of Maddison's blocked shot, but failed.
Fulham had their moments with Vicario having to save from Jimenez after Kulusevski had lost the ball after seemingly being fouled on the advance. Vicario was booked for trying to slow the game down top much. Vicario saved comfortably from Cairney after a pass by Jimenez.
Spurs sub Lo Celso charged forward and tried to feed another sub - Veliz - but he had been caught offside. There were seven minutes of added time, during which Royal made two good blocks of shots by Harry Wilson.
Having closed one weekend of Premier League action, we open the next with a Friday night game at Selhurst Park. We beat Palace 4-0 away last January and Palace lost 4-0 at Newcastle on Saturday. We must have a great chance to extend our lead at the top of the 10-game table.
COME ON YOU SPURS!
. Spurs record in recent London Derby League matches
. Squad numbers,appearances,bookings & goalscorers
. Read the preview for this game.
. All the Spurs Stats you could hope for here! THFC6061 Sports Stats