. Last season's game - Spurs 2 Fulham 1, 03.09.22
. Premier League Matchday 9 - last year
. See the current injury list for all Premier League Teams
. All the Spurs Stats you could hope for here! THFC6061 Sports Stats


Full Record of Spurs -v- Fulham
 
Premier       Pl   W   D   L    For-Ag  Pts
Home          16  10   4   2    27 -10   34
Away          16   8   3   5    24 -18   27
===========================================
Total(Prem)   32  18   7   7    51 -27   61  1.91 Pts per game
===========================================
Football Lge
Home(Div 1)   11   8   3   0    28 - 13  19
Away(Div 1)   11   6   4   1    17 - 12  16
===========================================
Total(Div 1)  22  14   7   1    45 - 25  35
===========================================
Football Lge
Home(Div 2)   11   4   6   1    13 - 8   14
Away(Div 2)   11   4   5   2    20 - 16  13
===========================================
Total(Div 2)  22   8  11   3    33 - 24  27
===========================================
Total(Prem)   32  18   7   7    51 -27   61
Total(Div 1)  22  14   7   1    45 - 25  35
Total(Div 2)  22   8  11   3    33 - 24  27
===========================================
Grand Total   76  40  25  11   129 - 77 123
===========================================

Last Six Premier League results:-

Spurs       -     WWWDWW
           
B'mouth    0-2    Spurs
Burnley    2-5    Spurs
Spurs      2-1    Sheff Utd
Arsenal    2-2    Spurs
Spurs      2-1    Liverpool
Luton      0-1    Spurs

Fulham      -     DLWDLW

Arsenal    2-2    Fulham
Man City   5-1    Fulham
Fulham     1-0    Luton
C.  Palace 0-0    Fulham
Fulham     0-2    Chelsea
Fulham     3-1    Sheff Utd

Pos         P  W  D  L   F-A   GD  Pts
 4. Spurs   8  6  2  0  18-8   10   20
13. Fulham  8  3  2  3   8-13  -5   11

Reaching the top is one thing. Can we stay there?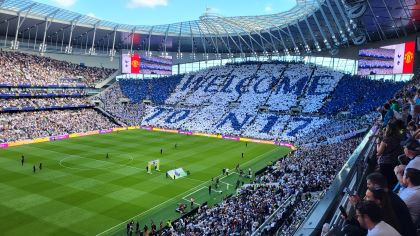 For the first time in the 26-year history of the Spurs Odyssey web site I find myself posing a question about holding onto top place after eight games. We've had our best-ever start to a Premier League season and this Premier League article offered the statistic that of the 31 teams that have led the table at this stage, 12 have gone on to win the title! How we would all love Spurs to become the thirteenth such team!
Incidentally, Spurs have now won the Premier League's manager and player of the month award two months running! Heung-min Son took the September award for player after James Maddison had won in August. The last time a manager won the first two awards (Jurgen Klopp in 2019-20) the team went on to win the Premier League title!
All Spurs connections and especially our very popular head coach Ange Postecoglou will have their feet on the ground at this very early stage of the season. After all, by the time we play this game on Sky's "Monday Night Football" offering, we will be playing catch up with three teams having overtaken us after their weekend games.
One of the perils of not having qualified for Europe this season is the fact we will be prime candidates for Sky's Monday or Friday night games, and such is the case this week, with a trip to Selhurst Park to come on Friday. Let's hope that on Friday we can set an unassailable lead for next weekend! In two weeks' time we host Chelsea on a Monday night. What are you doing with YOUR Saturdays?
Marco Silva's Fulham won't fear us of course, as they are the team who gave us an early exit from the Carabao Cup, albeit via the penalty shoot-out. The one criticism that has been made of "Big Ange" is that he didn't choose a stronger team for that game. Fulham are still in the competition having seen off Norwich, but face a difficult trip to Kieran McKenna's Ipswich next week (1st November).
Former Fulham man Manor Solomon did play in that League Cup game, but he won't be playing for a while now after suffering his knee injury in training before the International break.
On the day we met at Craven Cottage in August, Fulham announced the signing of Timothy Castagne from Leicester City for an undisclosed fee. Castagne is a right-back who is perfectly adept at operating on the opposite side. Fulham also signed Everton midfielder Alex Iwobi in a deal which could reach £22m. The 27-year-old Nigeria midfielder joined Everton from Arsenal in the summer of 2019 and made 123 league appearances for the Toffees, scoring six times.
Last season's away game was played exactly 9 months ago today, also on a Monday night. Harry Kane scored the solitary goal to equal Jimmy Greaves' club record of 266 goals. Kane made his 300th Premier League appearance against Fulham, becoming just the second player in the competition's history after Teddy Sheringham to score on his 100th, 200th and 300th appearance. The win gave us our first league double last season.
Fulham have lost 13 of their last 15 Premier League games against Tottenham Hotspur (W1 D1), with their only win in that sequence a 1-0 away victory in March 2013. The only goal in that game was scored by Dimitar Berbatov, once of Spurs and Manchester United.
Yves Bissouma is suspended following his sending-off at Luton, but Postecoglou was positive about the squad in his press conference yesterday (Friday), saying:- "The reports all seem to be good. No issues around the fitness of the guys and playing on Monday night helps us. Brennan [Johnson] has had a good couple of weeks and we will see how he goes."
There had been injury rumours about "Sonny" and Romero, but it seems all is well. Rodrigo Bentancur has returned to full training, but is not yet match-ready.
As for Fulham, Issa Diop is sidelined along with Adama Traore, Kenny Tete and Tosin Adarabioyo on the Cottagers' casualty list.
I am predicting a 3-1 home win. My report will be posted on Tuesday morning.
Monday's game is being refereed by one of our most senior officials. It will be the 44th time Anthony Taylor is in charge of a Spurs game. We last saw him in the middle on the last day of last season, when we travelled to Leeds and won 4-1!
. Spurs record in recent London Derby League matches