. Premier League Matchday 4 - last year
. See the current injury list for all Premier League Teams
. All the Spurs Stats you could hope for here! THFC6061 Sports Stats


Full League Record of Spurs -v- Burnley
 
Prem          Pl   W   D   L   For- Ag  Pts
Home           8   7   1   0   21 -  3  22
Away           8   3   2   3   10 -  8  11
==========================================
Total(Prem)   16  10   3   3   31 - 11  33  Pts per game 2.06
==========================================
Football Lge
Home(Div 1)   34  17   7  10   75 - 44  41 
Away(Div 1)   34   6  10  18   44 - 74  22
==========================================
Total(Div 1)  68  23  17  28  119 -118  63
==========================================
Football Lge
Home(Div 2)   10   8   2  0    34 -  7  18 
Away(Div 2)   10   1   3  6     6 - 13   5  
==========================================
Total(Div 2)  20   9   5  6    40 - 20  23 
==========================================
Total(Prem)   16  10   3   3   31 - 11  33
Total(Div 1)  68  23  17  28  119 -118  63
Total(Div 2)  20   9   5   6   40 - 20  23   
==========================================
Grand Total  104  42  25  37  190 -149 119 
==========================================

Last Six Premier League results:-

Burnley    -    LWWWLL

Burnley    1-2    QPR
Blackburn  0-1    Burnley
Bristol C. 1-2    Burnley
Burnley    3-0    Cardiff
Burnley    0-3    Man City
Burnley    1-3    A. Villa

Spurs      -    LLWDWW
           
A. Villa   2-1    Spurs
Spurs      1-3    Brentford
Leeds      1-4    Spurs
Brentford  2-2    Spurs
Spurs      2-0    Man Utd
B'mouth    0-2    Spurs

Pos          P  W  D  L   F-A   GD  Pts
 3. Spurs    3  2  1  0   6-2    4    7
18. Burnley  2  0  0  2   1-6   -5    0 

Can Spurs maintain their early league form?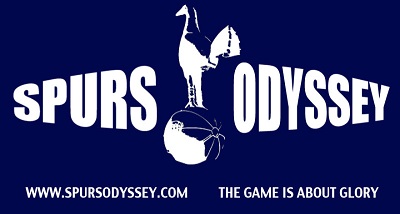 "The great fallacy is that the game is first and last about winning. It's nothing of the kind. The game is about glory. It is about doing things in style, with a flourish, about going out to beat the other lot, not waiting for them to die of boredom." - Danny Blanchflower
Spurs have to dust themselves down after their early exit from the Carabao Cup, but at least their opponents Burnley did win through with a late goal at Nottingham Forest's City Ground. Burnley manager Vincent Kompany does have injury concerns though after defender Hjalmar Ekdal, was carried off on a stretcher and summer signing Aaron Ramsey and Vitinho also limped off. The win was Burnley's first of the season, although they have only played two Premier League games so far.
Vincent Kompany's Burnley side had a tough start to the season when they had to face the manager's former side - treble winners Man City, who won 3-0. A sizeable number of home fans did not ingratiate themselves when they booed the taking of the knee. That was a Friday night game and served as SKY's opening fare of the league season. Burnley then had to sit out matchday two when they had been scheduled to visit Luton, whose ground was not ready for Premier league conditions.
Last week, Burnley lost 3-1 at home to Villa. Again, a few Burnley fans (presumably) disgraced themselves when the Villa team coach was bricked as it left the Burnley area. I've always found the locals friendly, particularly in the pub we have used in recent years.
So far, the three promoted sides have played seven league games and lost on each occasion. Luton host West Ham tonight (Friday). Vincent Kompany acknowledged the chasm that exists between Championship and Premier League in his post-match interview after the Villa defeat.
Both our games against Burnley in their relegation season of 2021-22 were tight affairs. On a wet and windy night in February 2022, and after a magnificent away win against Manchester City, we fell to a 1-0 away defeat when Ben Mee scored the winning goal with a header.
Our last meeting also followed a high (a 3-0 home win against Arsenal), and finished 1-0 in our favour, meaning we only needed one point in our final game at Norwich to secure Champions League football. We famously won that game 5-0.
Any trip to Burnley has always been difficult and this third away game of four league games played so far is going to be no exception. We can expect to see a different kind of football under Kompany's leadership, compared to that of the Sean Dyche era.
Burnley confirmed their promotion after one season and in record time, with seven games to spare, on Good Friday 7th April. They were confirmed as Champions when they beat local rivals Blackburn 1-0 at Ewood Park on Tuesday 25th April.
Vincent Kompany signed a new five-year contract after his success in last season's Championship season.
Last year Burnley signed Borussia Monchengladbach defender Jordan Beyer on a season's loan, and his deal was made permanent in the summer. Beyer is 23 and made 30 Championship appearances last season, with 29 starts. Beyer is out with a thigh injury sustained against Man City.
Striker Ashley Barnes left at the end of his contract and joined Norwich. Barnes had made 268 league appearances for Burnley, scoring 51 league goals for the club.
Burnley signed former Spurs Academy goalkeeper Lawrence Vigouroux on a Bosman-free transfer from Leyton Orient. Vigouroux had been almost ever-present in league matches for three seasons with "The Os" and spent a season on Liverpool's books in 2014-15 without making a first team appearance. However, Burnley signed another goalkeeper - James Trafford from Manchester City in a four-year deal worth up to £19m with add-ons. Trafford starred in the England U-21s successful summer World Cup campaign and has played both Burnley's Premier League games so far.
Burnley's summer signings also included 22-year-old Switzerland forward Zeki Amdouni from Basel, former Norwich and Southampton forward Nathan Redmond from Besiktas and midfielder Sander Berge from Sheffield United for a fee in the region of £12m.
Aaron Ramsey was signed from Aston Villa and the club also signed France Under-20 forward Wilson Odobert who had a debut at Forest.
Burnley's Moroccan International Anass Zaroury has to sit out a third game after being sent off in the Manchester City defeat.
This Burnley side will be hardly recognisable from that we last played 16 months ago. Ange Postecoglou will hopefully be able to field the side which started the last two games and record a win. I'll say 2-1 to Spurs. I don't think any last minute transfer deadline day business will interfere with Ange's selection, as most of our business today relates to outgoings. Any new arrivals would a) have to be registered by midday and b) would not yet be familiar with the manager's style of play.
Match referee Darren England is in charge for Spurs for just the fourth time, having last been in the middle for our 1-0 home win against Crystal Palace in May. This is his first Premier League game this season, although he has already been in charge of two European qualifiers.
Did you know? - "Push and run" legendary manager Arthur Rowe made his Spurs playing debut v Burnley at White Hart Lane in October, 1931. Arthur was born in Tottenham on 1st September, 1906. He passed away in 1993 and is remembered by many for his tearful love of the club when interviewed by John Motson in 1982. (https://www.youtube.com/watch?v=LVFal0bqgcg.)