· Last season's game - Arsenal 2 Spurs 2, 01.09.19
· This season's home game - Spurs 2 Arsenal 0, 06.12.20
· Premier League Matchday 28 - last year
· See the current injury list for all Premier League Teams
· All the Spurs Stats you could hope for here! THFC6061 Sports Stats


Full Record of Spurs -v- Arsenal
 
Prem          Pl  W   D   L  For-Ag  Pts
Home          29 12  12   5  42 -35  48
Away          28  2  11  15  29 -55  17
========================================
Total(Prem)   57 14  23  20  71 -90  65 Pts per game 1.14
=======================================
Football Lge
Home(Div 1)   55 24  12  19  93 -83  63
Away(Div 1)   55 16  12  27  65 -85  46
========================================
Total(Div 1) 110 40  24  46 158 -168 109
========================================
Total(Prem)   57 14  23  20  71 -90  65 
Total(Div 1) 110 40  24  46 158 -168 109
========================================
Grand Total  167 54  47  66 229 -258 174
========================================

Last Six Premier League results:-

Arsenal    -    LLWLWD

Wolves     2-1    Arsenal
A. Villa   1-0    Arsenal
Arsenal    4-2    Leeds
Arsenal    0-1    Man City
Leicester  1-3    Arsenal
Burnley    1-1    Arsenal

Spurs      -    WLLWWW
           
Spurs      2-0    West Brom
Man City   3-0    Spurs
West Ham   2-1    Spurs
Spurs      4-0    Burnley
Fulham     0-1    Spurs
Spurs      4-1    C. Palace

Pos           P  W  D  L   F-A   GD  Pts
 7. Spurs    27 13  6  8  46-28  18   45
10. Arsenal  27 11  5 11  35-28   7   38 

Hoping for another comedy moment by Arsenal
Despite being last season's FA Cup winners, Arsenal are one of the greatest under-achievers in this season's Premier League. I would have argued a case for them being clear leaders in this department, but we have to take Liverpool's current demise into consideration here. Liverpool are still above our nemesis though.
Arsenal went through a spell early in the season of managing only one win in 10 league games. That was at Old Trafford. We were having fun at their expense when they were as low as 15th in mid-December before they went on a run of 7 games unbeaten, five of which they won.
Whatever happens in tomorrow's game, Arsenal cannot go above us. Hopefully, a rare away win against our local rivals will put us 10 points clear. When we met in December we were top of the league. Arsenal were 14th. We had an eight point lead which we extended to eleven with a 2-0 win with goals by Son and Kane (who else?). It was not a "pretty" win with Spurs having only 31% possession and playing with their backs to the walls most of the time. There were 2,000 Spurs fans allowed in the stadium to watch this game.
On the back of five successive wins, two of which were in European games, I am hoping not only for a Spurs win, but one achieved by playing the sort of stylish football we have seen of late. Indeed, we have scored 15 goals in those 5 wins, with only one scored against us. In the run-up to our December win, we had been unbeaten in seven games. Arsenal had been winning their Europa League games, but when they played us, they were in the middle of a run of 7 league games without a win. If they had a home crowd to please, they would have suffered badly, particularly when they lost at home to Aston Villa, Wolves and Burnley in successive home league games. The only home game Arsenal played in front of the briefly permitted 2,000 spectators was a Europa League match.
Arsenal's form has improved of late (as has ours), but they've still only won two of their last six games in the Premier League. Those were at home to Leeds and, somewhat surprisingly, away to Leicester. Last week's game at Turf Moor included a comedy goal when Arsenal tried but failed to play out from the back successfully with Xhaka hitting a ball across his area where it rebounded into the net off Chris Wood. On Thursday night the Olympiacos goal followed a similar failure to play out from the back which resulted in the ball being lost from which El Arabi scored. I'm hoping for another comedy moment tomorrow - in our favour of course!
Mikel Arteta recently complained about the fact that Spurs had the advantage over them because we did not have to travel this week. That only happened because UEFA reversed our planned away first leg because of their rule which meant we and Arsenal could not play at home on the same night. Thus, Spurs lost the advantage of playing their first leg away from home, although with the absence of crowds the benefit of playing at home is felt less.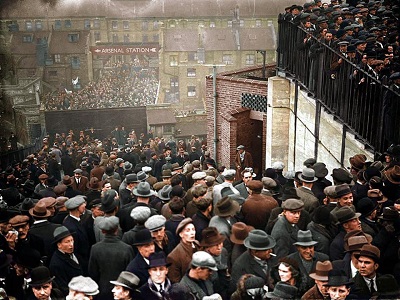 I recently came across the above picture of the crowds at the old Highbury Stadium in 1934. I am hoping it was for the January meeting when Spurs won 3-1 with two goals by Willie Evans and one from Les Howe. The wonderful Arthur Rowe was one of our centre-halves. Also in the Spurs team was George Hunt, who made his debut playing for Chesterfield (where I now live) and who would have one season at Arsenal after leaving Spurs. Hunt is one of those overtaken by Harry Kane in his climb to second in the all-time list of Spurs club goalscorers.
If the picture relates to our October meeting, it relates to a 5-1 defeat. George Hunt scored our goal, and the Spurs team included Tom Meads, born in Grassmoor, Chesterfield in November 1900. Meads captained Spurs in the 1930-31 season and in the games he played the following season, but 1934-35 was his last season at Spurs. Arsenal's side included Ted Drake, scorer of a hat-trick, who later managed Chelsea in the fifties and early sixties.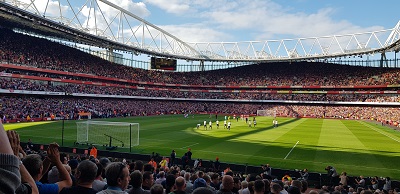 It's almost a full 18 months since we last played at the Emirates Stadium. We had a two-goal lead thanks to goals by Eriksen and Kane (penalty) before Lacazette got one back in first-half added time and Aubameyang equalised with 20 minutes remaining. Over 60,000 were present, but of course tomorrow's game (4.30pm SKY) will be in an empty stadium, which might be of benefit to Spurs. Away wins here for Spurs are as rare as hens' teeth, but I'm going to stick my neck out and predict a 2-1 win. Harry Kane will be looking for his 12th NLD league goal. "Sonny" is due a goal too, having drawn a blank in his last five games. We are unbeaten in our last five games against Arsenal.
Regarding the possible knee injury sustained by Kane against Dinamo Zagreb, Jose says ""Harry I don't believe is anything big. Sunday is a match everyone wants to play, and little things will not stop him. I don't have the feeling it is anything serious." Lo Celso is still unlikely to be involved. These are the only potential injury issues known regarding both clubs.
It's a big game and we have a big match referee - Michael Oliver. We've only encountered Mr. Oliver in the middle three times this season, each of which have been away games, including tomorrow's game. The other games were at Burnley and Marine (in the FA Cup). This will be Mr. Oliver's 41st game in charge of Spurs. After Mike Dean, Mr. Oliver is the referee we've seen most over the last 10 years, and despite Spurs fans having some misgivings in recent times, he still has one of the best average grades (5.89) in our post-match surveys, which is no mean feat.
· Spurs record in recent London Derby League matches