· Last season's game - Spurs 4 Crystal Palace 0 - 14.09.19
· This season's away game - Crystal Palace 1 Spurs 1, 13.12.20
· Premier League Matchday 27 - last year
· See the current injury list for all Premier League Teams
· All the Spurs Stats you could hope for here! THFC6061 Sports Stats


Full Record of Spurs -v- Crystal Palace

Prem        Pl   W   D   L  For-Ag  Pts
Home        11   6   4   1  14 - 4   22
Away        12   7   3   2  17 -11   24
=======================================
Total(Prem) 23  13   7   3  31 -15   46  2 Pts per game
=======================================
Football Lge
Home(Div 1)  9   5   2   2   14 -6   12
Away(Div 1)  9   5   3   1   16 -9   14
=======================================
Total(Div 1)18  10   5   3   30 -15  26
=======================================
Football Lge  
Home(Div 2)  1   0   1   0    2 -2    1
Away(Div 2)  1   1   0   0    2 -1    2
=======================================
Total(Div 2) 2   1   1   0    4 -3    3
=======================================
Total(Prem) 23  13   7   3  31 -15   46
Total(Div 1)18  10   5   3   30 -15  26
Total(Div 2) 2   1   1   0    4 -3    3
=======================================
Grand Total 43  24  13   6   65 -33  75
======================================= 

Last Six Premier League results:-

Spurs      -    LWLLWW
           
Spurs      0-1    Chelsea
Spurs      2-0    West Brom
Man City   3-0    Spurs
West Ham   2-1    Spurs
Spurs      4-0    Burnley
Fulham     0-1    Spurs

C. Palace  -    WLLWDD

Newcastle  1-2    C. Palace
Leeds      2-0    C. Palace
C. Palace  0-3    Burnley
Brighton   1-2    C. Palace
C. Palace  0-0    Fulham
C. Palace  0-0    Man Utd

Pos             P  W  D  L   F-A   GD  Pts
 8. Spurs      26 12  6  8  42-27  15   42
13. C. Palace  27  9  7 11  29-43 -14   34

Differing ambitions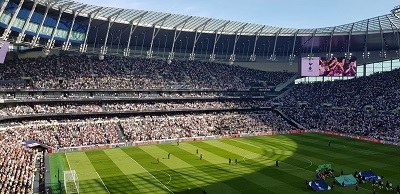 Both teams go into this weekend's fixtures secure in the knowledge that they cannot be overtaken this week, even if they lose. (Villa could go above Spurs on goal difference with a big win over Wolves) Both teams have significantly differing ambitions. Palace have had a largely unexciting season and were knocked out of both cup competitions at the first hurdle. They need just a few more points yet to be totally confident about Premier League survival, but that surely is the height of their ambition. Spurs, after two successive league wins, have their eyes once again upon a top four place, or at least qualification for another European campaign.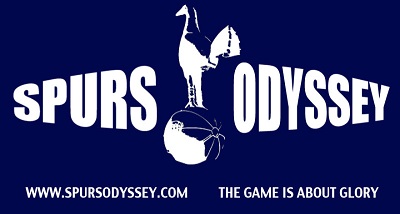 THFC would not allow me the fly the Spurs Odyssey flag in the stadium for these behind closed doors games but it will feature in my match report!
Palace's one venture into European competition was a very brief Intertoto Cup expedition in 1998, after they had been relegated for a second time from the Premier League. Terry Venables was Palace's manager for the second time but didn't stay till the end of the season. Palace didn't qualify but applied for and were admitted to the competition. They lost both legs 2-0 to Turkish side Samsunpor. Former Spur Dean Austin made his Palace debut in the first game at Selhurst Park.
Spurs are very much interested in the Europa League and face Dinamo Zagreb in next Thursday's first leg, now being played at home.
Last season's home game was played 18 months ago in front of a crowd of 59,812 people who saw the last decent Spurs performance in a league game before the departure of Mauricio Pochettino. Palace were fresh from beating Manchester United at Selhurst Park but fell to a truly scintillating first half performance in which we scored all four of our goals.
Heung-min Son, who made history with the first senior competitive goal scored against Palace in our new stadium in April 2019, added to his total against Palace with two of our goals. The others came from a Van Aanholt own goal, following Aurier's cross, and Erik Lamela three minutes before the break. "Sonny"'s first home league goal had been against Palace in September, 2015, and the two in this game were his third and fourth.
Since then, we have had two away draws against Roy Hodgson's men. These were the last game of last season, when one point was enough to secure our place in Europe and this season's away game. Both games finished 1-1. The scorers in both games were also the same - Schlupp for Palace, and Harry Kane for Spurs.
Our points per game ratio against Palace in 23 Premier League games to date is two, with our record against Burnley marginally better. With only one home Premier League defeat against this team, you'd have to make us favourites to win again.
Our first league meetings with Palace came in 1969. There had only been one FA Cup meeting prior to that in 1924. We won both those 1969 games 2-0. Martin Chivers and Jimmy Pearce scored in the away game in August. The return match was on Boxing Day when Steve Perryman and Alan Mullery scored our goals. The future "skipper" had made his Spurs debut in September that year (in a home defeat against Sunderland) at the age of 17. Stevie soon became a regular and was 18 by the time he scored that Boxing Day goal, which was his first senior goal.
Steve Perryman became and remains the player with the highest number of appearances for the club (854) with second-placed Gary Mabbutt 243 appearances behind. It is a phenomenal record, probably never to be beaten. It is no wonder that Steve is revered to this day by his playing contemporaries and fans alike.
The late Brian Judson wrote at length in this 1997 preview about the events of January 1970 when Spurs were surprisingly knocked out of the FA Cup by Division One novices Crystal Palace.
Roy Hodgson has had to cope with more than a fair share of injury problems throughout the season and this week is no different with goalkeeper Wayne Hennessy, centre-backs Mamadou Sakho and James Tomkins, full backs Nathan Clyne and Tyrick Mitchell and midfielders James MacArthur and James McCarthy confirmed absentees. Palace are likely to have Wilfried Zaha back though. He's been out since 2nd February with a thigh injury. He recently stated he would no longer take the knee and it will be interesting to see if he maintains this stance tomorrow.
Despite their absentees, Palace have generally made it very difficult for opponents to get through their two banks of four, as seen in their last two goal-less matches. Jose Mourinho says that Serge Aurier will be available and I suspect he's been saving him to counter Zaha's pace. Apart from Jose's reservations about Lo Celso's match fitness (he hasn't played since December) there are no other injury worries. An early goal, such as in last week's Burnley game would be ideal, but I suspect we will find it difficult to break through the Palace defensive barrier. I do foresee a 3-0 Spurs win. The game kicks off at 7.15pm tomorrow and is being shown on Sky Sports.
Our match referee Stuart Attwell is in charge of Spurs for the 14th time. We've seen him in the middle in one other game this season, which was last month's 2-0 win over West Brom in which both Kane and Son scored. Of course they did! Last week Mr Attwell was in charge of the Chelsea v Man Utd game in which he declined to change his decision not to give a handball against Callum Hudson-Odoi, despite VAR suggesting he looked at the incident again.
· Spurs record in recent London Derby League matches