· Premier League Matchday 18 - last year
· See the current injury list for all Premier League Teams
· All the Spurs Stats you could hope for here! THFC6061 Sports Stats


Full Record of Spurs -v- Fulham
 
Premier       Pl   W   D   L    For-Ag  Pts
Home          14   9   3   2    24 - 8   30
Away          14   6   3   5    22 -18   21
===========================================
Total(Prem)   28  15   6   7    46 - 25  51  1.82 Pts per game
===========================================
Football Lge
Home(Div 1)   11   8   3   0    28 - 13  19
Away(Div 1)   11   6   4   1    17 - 12  16
===========================================
Total(Div 1)  22  14   7   1    45 - 25  35
===========================================
Football Lge
Home(Div 2)   11   4   6   1    13 - 8   14
Away(Div 2)   11   4   5   2    20 - 16  13
===========================================
Total(Div 2)  22   8  11   3    33 - 24  27
===========================================
Total(Prem)   28  15   6   7    46 - 25  51
Total(Div 1)  22  14   7   1    45 - 25  35
Total(Div 2)  22   8  11   3    33 - 24  27
===========================================
Grand Total   72  37  24  11   124 - 75 113
===========================================

Last Six Premier League results:-

Spurs      -    WDLLDW
           
Spurs      2-0    Arsenal
C.Palace   1-1    Spurs
Liverpool  2-1    Spurs
Spurs      0-2    Leicester
Wolves     1-1    Spurs
Spurs      3-0    Leeds


Fulham     -    WLDDDD

Leicester  1-2    Fulham
Man City   2-0    Fulham
Fulham     1-1    Liverpool
Brighton   0-0    Fulham
Newcastle  1-1    Fulham
Fulham     0-0    S'hampton

Pos          P  W  D  L   F-A   GD  Pts
 4. Spurs   16  8  5  3  29-15  14   29
18. Fulham  15  2  5  8  13-23 -10   11

Make short work of this short notice game Spurs!
Spurs were due to travel to Villa Park for their Premier League action tomorrow night, but as Villa have been struck down by Coronavirus, that game was postponed and this game, which had been postponed on 30th December was re-arranged at short notice. Fulham, who returned to action in the FA Cup on Saturday (and beat QPR away), were not happy at the short notice (Monday) given regarding this game.
Fulham say they might have prepared differently for their FA Cup game had they known they would be playing this game. I say welcome to the Covid-19 football world Fulham! This is one in which Spurs were required to play four games in a week early this season. That was a schedule of Sunday-Tuesday-Thursday-Sunday. It was a week on which we conquered Chelsea in the League Cup, then beat Maccabi Haifa 7-2 and Manchester United 6-1 away! Fulham's Saturday-Wednesday-Saturday pales into insignificance. Fulham had been due to play Chelsea on Friday night, but that has been put back to Saturday. Fulham are not the only team to have been inconvenienced as a result of this change of schedule.
The scheduled game was called off with just a few hours notice with Spurs champing at the bit for their game to be played. My headline for the original preview was "Two or three goals would be nice Jose!" as the game originally followed what had been a mini-drought regarding goals and results for Spurs. Now I say "Make short work of this short notice game Spurs!"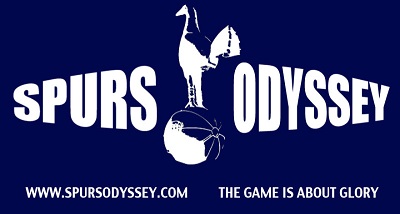 THFC would not allow me the fly the Spurs Odyssey flag in the stadium for these behind closed doors games but it will feature in my match report!
Just over 13 years ago in December 2007 we experienced a Spurs goal-fest at White Hart Lane. First we beat Fulham 5-1 with goals by Keane (2), Huddlestone (2) and Defoe on Boxing Day. Then on 29th December 2007 we beat Reading 6-4. Dimitar Berbatov scored 4 of those. Steed Malbranque, previously of Fulham, added a goal, along with Jermain Defoe. Incidentally, at the age of 41 Steed is registered as a player on the books of a French amateur club - Limonest.
We've even had a couple of similar, and more sensational results this season, but they've both been away from home against Southampton then Manchester United where we scored five and six goals respectively. That Old Trafford game was three months ago. At home, we've disappointed a lot of the time, taking until our fourth home league game to win, and that against Brighton 2-1. The subsequent wins against Man City and Arsenal were good performances and Jose Mourinho's defensive then counter-attacking style suited us against these opponents. The run of league results (in December) where we dropped 10 out of 12 points was disappointing to say the least. Some fans had already lost their patience with Mourinho, but it took this observer until the Wolves game to come out of the critical closet so to speak.
Now Spurs are playing this game on the back of five games unbeaten, four of which have been won. In our last three games we have scored 10 goals and conceded none.
It is time for Spurs to not just get on the front foot for the first 57 seconds of a game, as per Molineux, but to maintain positive momentum throughout a game. Fulham are just the right opponents to suffer such treatment you might say, but despite their position in the bottom three, Fulham's league form over their last six league games is not so bad, with a win and four draws. Scott Parker has got his team playing some positive and fast-flowing football. They are not hitting the net much, but they have kept three clean sheets in their last four games, including the cup game at Loftus Road.
Scott Parker was the Spurs Odyssey Player of the Season in 2011-12 when we finished fourth but were cruelly denied a place in the following season's Champions League. Parker was appointed Fulham's caretaker manager towards the end of their relegation season, then got the job on full terms, guiding them back after one season, courtesy of a Play-Off Final win against our League Cup semi-final opponents next week, Brentford. Among his support team Scott has Matthew Wells, a former Spurs Junior player and grandson of none other than Cliff Jones.
The most significant of Fulham's recent results was when they gave Liverpool a good run for their money in the game before our 2-1 defeat at Anfield. Liverpool only equalised through an unfortunate handball by Kamara when in the wall blocking a free kick. That resulted in a penalty, which was scored by Salah.
Fulham made a number of signings after their promotion was concerned. Their main danger man may be former Charlton and Everton attacking midfielder Ademola Lookman (23) on loan from Leipzig. He will appear anywhere at the front. Other signings include left back Antonee Robinson (23) from Wigan, Ruben Loftus-Cheek on loan from Chelsea, and 27-year-old goalkeeper Alphonse Areola on a season-long loan from PSG. They've also signed Mario Lemina on loan and Harrison Reed (full terms) from Southampton. Another player appearing regularly this season is former Chelsea Academy defender Ola Aina on a season-long loan from Torino.
Fulham's established players include Bobby Decordova-Reid, who generally plays on the right side of attack or midfield and Ivan Cavaleiro, signed a couple of years ago from Wolves. Yes, he is Portuguese! Striker Aleksandar Mitrovic is not starting every game, but is usually involved at some point in the game. Mitrovic does not have the mobility of most of his team-mates I suspect. Look out too for Tom Cairney in midfield - a Fulham stalwart over the last five years with 198 league appearances to his name. He has a decent shot on him too.
It is very unlikely we will see former Spur Josh Onomah in action. Josh appeared in Fulham's first two league games, but had not featured after their league cup defeat to Brentford until Saturday's FA Cup game, in which he did play 120 minutes.
Our last game against Fulham was in January 2019, which we won thanks to a last minute goal by Harry Winks. It was our last away win in the Premier League that season, and also Mauricio Pochettino's last away league win in charge of Spurs. The only two away games we managed to win were in the Champions League at Dortmund and in Amsterdam. We didn't win away in the Premier league until Jose Mourinho took over and we won 3-2 at The London Stadium.
Our first meeting with Fulham in the Premier League was in December 2001 when we won 4-0 at White Hart Lane. Brian Judson's preview of that game is a worthy read regarding the history of our meetings with the "Cottagers".
I am sure Jose will be playing his strongest available side for this game, and Sunday's match at Bramall Lane. My (bound to be wrong) prediction is for a 3-0 home win! Spurs are odds on to win this game but maybe you'd like to check the odds on my 3-0 prediction at Online-Bookies.org.uk where you can see their bookies reviews and free bets. A win would put us within a point of Liverpool who play catch-up next midweek. Let's hope we do that! We kick off at 8.15pm with the game being shown live on Amazon Prime.
Paul Tierney was scheduled to be our match referee for Villa game, but was switched to this re-arranged game after the Villa postponement. This is the fourth time Mr. Tierney has been in charge of Spurs this season. That is more than any other referee so far. Mr. Tierney's last Spurs game was the 1-1 draw at Molineux, having previously taken charge of our draws at home to West Ham and away to Chelsea. It's about time this referee officiated a Spurs win!
· Spurs record in recent London Derby League matches
· Spurs v Fulham - original match preview