· 14 years ago almost to the day. A dramatic late equaliser by Younes Kaboul to celebrate our 125th anniversary with a 4-4 draw!
· Rafa van der Vaart the star on 2nd October, 2010!
· Last season's game - Spurs 1 Aston Villa 2, 19.05.21
· Premier League Matchday 7 - last year
· See the current injury list for all Premier League Teams
· All the Spurs Stats you could hope for here! THFC6061 Sports Stats

Full Record of Spurs -v- Aston Villa

 
Prem          Pl  W  D  L   For-Ag  Pts
Home          26 13  7  6   42 -27  46
Away          26  9  8  9   32 -29  35
======================================
Total(Prem)   52 22 15 15   74 -56  81  1.56 Pts per game
======================================
Football Lge
Home (Div 1)  47 25  6 16   99 -77  62
Away (Div 1)  47 17 11 19   72 -75  48
======================================
Total(Div 1)  94 42 17 35  171 -152 110 
=======================================
Football Lge
Home (Div 2)   2  1  1  0    4 - 3   3
Away (Div 2)   2  0  1  1    1 - 3   1
======================================
Total(Div 2)   4  1  2  1    5 - 6   4
======================================
Total(Prem)   52 22 15 15   74 -56  81
Total(Div 1)  94 42 17 35  171-152 110
Total(Div 2)   4  1  2  1    5 - 6   4
======================================
Grand Total  150 65 34 51  250-214 195
======================================

Last Six Premier League results:-

Spurs      -    WWWLLL
           
Spurs      1-0    Man City
Wolves     0-1    Spurs
Spurs      1-0    Watford
C. Palace  3-0    Spurs
Spurs      0-3    Chelsea
Arsenal    3-1    Spurs

A. Villa   -    LWDLWW

Watford    3-2    A. Villa
A. Villa   2-0    Newcastle
A. Villa   1-1    Brentford
Chelsea    3-0    A. Villa
A. Villa   3-0    Everton
Man Utd    0-1    A. Villa

Pos            P  W  D  L   F-A   GD  Pts
 8. A. Villa   6  3  1  2   9-7    2   10 
11. Spurs      6  3  0  3   4-9   -5    9 

The rot must stop!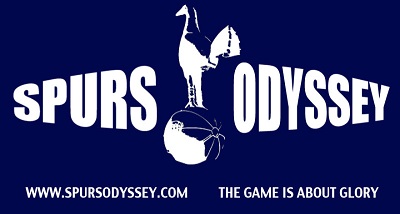 In terms of their Premier League performances, Spurs' September form has been rotten to the core with three defeats, each of which have been to London sides. Last week's pathetic surrender to our local rivals was the last straw for may Spurs fans, some of whom left The Emirates Stadium at half-time. Many more left before Son scored what proved to be a consolation goal. Indeed this was our only league goal scored in the month. Tomorrow the rot must stop. The trouble is our opponents will be Aston Villa.
Dean Smith's Aston Villa are doing quite nicely, thank you, in this their third season since their return to The Premier League, despite the loss of £100 million talisman Jack Grealish to Manchester City. Grealish's departure was announced on 5th August, but Villa had already spent money on Dannmy Ings from Southampton (reported at £25 million), Jamaican-born Leon Bailey from Bayer Leverkusen, and a club record £33 million for Norwich's midfield star Emiliano Buendia.
Buendia was one of six Norwich players who were picked in the "Championship team of the season". Oliver Skipp was another of those players. "Skippy" has settled well into our side, and in my view should be first choice to play alongside Pierre-Emile Hojbjerg. Buendia still seems to be finding his way at Villa and has played 90 minutes in just two of Villa's eight games so far.
Villa had a dodgy start to this season with a 3-2 defeat at Watford, but since then the only game they have lost was 3-0 and that was away to Chelsea. Villa's only other major set-back was to be knocked out of the Carabao Cup at Stamford Bridge on penalties.
"The Villans" are one point above us in the league table. In their last two games they beat a previously in-form Everton side 3-0, and last week conquered Manchester United at Old Trafford 1-0, courtesy of a rare Bruno Fernandes howler in added time when he scooped a penalty over the bar in front of the dismayed Stretford End.
Villa have United defender Axel Tuanzebe on a season-long loan deal. 36-year-old Ashley Young, who made 192 Premier League appearances for Manchester United, has returned to Villa Park after his sojurn with Inter.
Danny Ings scored goals in his first two Villa games, but not since. Bailey scored his first goal in the win against Everton, but he is not expected to play until after the international break, due to a thigh muscle strain. Ollie Watkins missed the first two games, but has played 90 minutes of the last three games without scoring. Douglas Luiz and John McGinn have been promimnent in the Villa midfield so far.
Goalkeeper Emiliano Martinez made his senior International debut for Argentina in the summer. By the end of the Copa America tournament he had established himself as Argentina's number one keeper, making three saves in a penalty shoot-out against Davinson Sanchez's Colombia (incuding one from Sanchez himself). Martinez played in the final in which Lionel Messi's Argentina beat Brazil 1-0. Our own Giovani Lo Celso also played in that final, playing in 6 of his country's 7 games. With another round of Internationals coming, both Villa and Spurs face uncertainty about the status and availability of their South American players in two weeks' time.
Two years ago, in August 2019 Tanguy Ndombele scored against Villa on his Premier League debut. He has added just four more league goals in a total of 56 Premier League appearances (including those as substitute). Ndombele took no part in Thursday's game. Perhaps there is a place for him in a balanced 4-2-3-1 line-up between Lucas Moura and Son behind Kane? Incidentally, Harry Kane scored his first goals in The Tottenham Hotspur Stadium in that 3-1 win against Villa.
I feel tomorrow's team is likely to be Lloris; Emerson Royal, Sanchez, Dier, Reguilon; Hojbjerg, Skipp; Lucas Moura, Ndombele, Son; Kane. Optimistically, I am predicting a 3-1 Spurs win, with Kane to score his first league goal of the season to add to the nine he has so far scored for club and country. I feel that defeat would have the worst implications for our coach.
Did you know? - Hugo Lloris made his Premier League debut against Aston Villa on 7th October 2012. Spurs won that game 2-0 with goals by Steven Caulker and Aaron Lennon.
Referee Chris Kavanagh is taking charge of his ninth Spurs game. This is his first Spurs game of this season. Last season, Mr Kavanagh had just one of our games which was the home defeat by Manchester United in April. His first game in charge of us was three years ago in September 2018 when we won 2-1 at Brighton. Mr Kavanagh has not been in the middle much anywhere so far this season, refereeing one Champions League qualifier, one Championship and one Premier League game.