· Last season's game - Spurs 2 Crystal Palace 0 - 03.04.19
· This week - last year
· What happened in the Premier League on Matchday 5 2018-19
· See the current injury list for all Premier League Teams
· All the Spurs Stats you could hope for here! THFC6061 Sports Stats


Full Record of Spurs -v- Crystal Palace

Prem        Pl   W   D   L  For-Ag  Pts
Home        10   5   4   1  10 - 4   19
Away        10   7   1   2  15 - 9   22
=======================================
Total(Prem) 20  12   5   3  25 -13   41
=======================================
Football Lge
Home(Div 1)  9   5   2   2   14 -6   12
Away(Div 1)  9   5   3   1   16 -9   14
=======================================
Total(Div 1)18  10   5   3   30 -15  26
=======================================
Football Lge  
Home(Div 2)  1   0   1   0    2 -2    1
Away(Div 2)  1   1   0   0    2 -1    2
=======================================
Total(Div 2) 2   1   1   0    4 -3    3
=======================================
Total(Prem) 20  12   5   3  25 -13   41
Total(Div 1)18  10   5   3   30 -15  26
Total(Div 2) 2   1   1   0    4 -3    3
=======================================
Grand Total 40  23  11   6   59 -31  70
======================================= 

Last Six Premier League results:-

Spurs      -    LDWDLD
           
B'mouth    1-0    Spurs
Spurs      2-2    Everton
Spurs      3-1    A. Villa
Man City   2-2    Spurs
Spurs      0-1    Newcastle
Arsenal    2-2    Spurs

C. Palace  -    WWDLWW

Cardiff    2-3    C. Palace
C. Palace  5-3    B'mouth
C. Palace  0-0    Everton
Sheff Utd  1-0    C. Palace
Man Utd    1-2    C. Palace
C. Palace  1-0    A. Villa

Pos           P  W  D  L   F-A   GD  Pts
4. C. Palace  4  2  1  1   3-2    1    7
9. Spurs      4  1  2  1   7-5    1    5

Time to assert yourselves Spurs!
The first International break of the season is over, and we now face a busy schedule of no less than 7 games before we have to endure another two week interval. That schedule includes our first two Champions League games against Olympiacos (away) and the mighty Bayern Munich at home. That is a lip-smacking prospect along with 4 Premier League games and a Carabao Cup trip to Colchester. If you are a keen punter then only the best betting sites should be of interest. Our first match on the list is tomorrow's home game against Roy Hodgson's Crystal Palace. This is our first game of the season not being televised. The only other game this month not being played in front of live cameras will be another Saturday 3pm game at home to Southampton on 28th September.
We have now played a total of 40 league games against Palace and gained 70 points from those games which is an average of 1.75 points per game. That's a pretty good average but the 2.05 average in our 20 Premier League games is even better and among our best against Premier League clubs.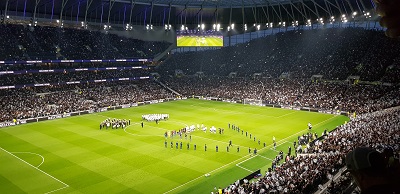 Our last game against Palace was one for the history books, of course, as it was the first competitive game in the new stadium. Son became the first scorer of a competitive goal in our new home, whilst Christian Eriksen sealed the win with 10 minutes to go. Palace become the first team to visit the "Tottenham Hotspur Stadium" twice.
Our first six league meetings with Palace were in the Southern League and Western League between 1906 and 1908. Palace became original members of Division Three in 1920 and were promoted to Division Two in 1921, where they spent 4 seasons before dropping back down. It was during this period that we met Palace in an FA Cup game in 1924, which we lost 2-0. Our first Football League meeting against Palace was not until August 1969 at Selhurst Park, when Spurs ran out 2-0 winners with goals by Martin Chivers and Jimmy Pearce. That was better than we did in the infamous FA Cup replay the following January which became the last senior Spurs game played by Jimmy Greaves.
Our best result to date against Palace was a 4-0 FA Cup Fourth round win in January 1987 when Garry Mabbutt, Clive Allen and Nico Claesen each scored for Spurs in addition to an own goal by former Spur Gary O'Reilly. The only FA Cup goals O'Reilly scored were for Palace in a career of 211 (+12 as sub) appearances in all games for Spurs, Brighton, Palace and Birmingham. Those goals came in the FA Cup semi-final and final in 1990 against Liverpool in the semi-final and Manchester United in the drawn first game. O'Reilly never scored for Spurs in 46 appearances plus 8 as sub.
Roy Hodgson's side had an excellent result at Old Trafford on the same weekend we lost at home to Newcastle. The "Eagles" find themselves above us in the table, which has to be something of a rarity. They are not going to make things easy for us, but it is time for Spurs to assert themselves and lay claim to a loftier position in the early league table.
Most of our International players have returned to the fold fit and happy. Harry Kane banged in four England goals and continues his climb up the list of top scorers for the senior International side. Harry had a penalty saved in the crazy high-scoring win against Kosovo, but the penalty was delayed by the referee, and the goalkeeper did move off the line without punishment. Jan Vertonghen and Toby Alderweireld's Belgium enjoyed 4-0 wins over San Marino, and Scotland. Serge Aurier played his first football of the season with Ivory Coast, and maybe will start tomorrow, bearing in mind Juan Foyth is not yet fit. Kyle Walker-Peters is "being assessed" for selection along with Tanguy Ndombele, Ryan Sessegnon and Eric Dier, all of whom returned to training.
Sadly, Giovani Lo Celso is one player we won't see before November as he was sent home after suffering a hip injury on International duty for Argentina. Davinson Sanchez will also be assessed after suffering "irritation" to his ankle whilst with Colombia.
Palace star Wilfried Zaha did not feature for The Ivory Coast this week, and was unhappy at the start of this season because he failed to get the high profile move he hoped for. Zaha was a sub in Palace's first game, but has played 90 minutes in their last three Premier League games. Zaha played in a couple of Englnd friendlies in the 2012/13 season, but made his Ivory Coast debut in 2017 and has now played in 16 games for the country of his birth.
Former Spur Andros Townsend, now 28, played 90 minutes for Palace in the Carabao Cup game against Colchester (our next Carabao Cup opponents won that tie on penalties!), but the only league game Andros has completed was the opening day 0-0 against Everton. Jordan Ayew has scored two of Palace's three goals of the season, with the other coming from left back Patrick Van Aanholt.
Having lost Wan-Bissaka to Manchester United, Palace didn't make any big money signings, but perhaps the highest profile acquisition was Gary Cahill, who cost nothing as he was released by Chelsea at the end of last season. Cahill is reportedy being paid £75,000 per week. He is now 33. Palace's other signings were midfielder James McCarthy from Everton and 21 year old goalkeeper Stephen Henderson from Nottingham Forest. Ayew was on loan last season from Swansea, but has now signed on a permanent basis.
I am letting my optimistic heart rule my head again with perhaps an over-confident prediction of a 3-0 win for Spurs. To do that, I think we would very much need an early goal to break down the anticipated Palace resistance.
Our match referee tomorrow will be Craig Pawson, who these days is fregularly seen on the European circuit. Already this season, Mr Pawson has been in charge of a Champions League qualifier in Amsterdam for Ajax v PAOK, and a Europa League play-off game between Maribor and Ludogorets. The last time Mr Pawson was in charge of Spurs he sent off Juan Foyth and Son Heung-min at Bournemouth!
· Spurs' record in recent London Derby matches
· "Ten Years After" - Spurs Odyssey reviews the season in which we first qualified for the Champions League. This weekend 10 years ago we lost 3-1 at home to Man Utd and fell to fourth place. Jermain Defoe scored our goal.