· Last season's game - Leicester 2 Spurs 1 - 21.09.19
· This season's home game - Spurs 0 Leicester 2 - 20.12.20
· Premier League Matchday 38 - last year
· See the current injury list for all Premier League Teams
· All the Spurs Stats you could hope for here! THFC6061 Sports Stats


Full Record of Spurs -v- Leicester City

Premier       Pl  W  D  L   For- Ag Pts
Home          15  7  3  5   30 -25  24
Away          14  5  2  7   22 -23  17
======================================
Total(Prem)   29 12  5 12   52 -48  41  1.41 Pts per game
======================================
Football Lge
Home(Div 1)   29 13  6 10   64 -46  34
Away(Div 1)   29 16  4  9   53 -54  40
======================================
Total(Div 1)  58 29 10 19  117 -100 74
======================================
Football Lge
Home(Div 2)    7  3  3  1   12 - 7   9
Away(Div 2)    7  4  1  2   14 -13   9
======================================
Total(Div 2)  14  7  4  3   26 -20  18
======================================
Total(Prem)   29 12  5 12   52 -48  41
Total(Div 1)  58 29 10 19  117 -100 74
Total(Div 2)  14  7  4  3   26 -20  18
======================================
Grand Total  101 48 19 34  195 -168 131
======================================

Last Six Premier League results:-

Leicester  -    WWDLWL

Leicester  3-0    West Brom
Leicester  2-1    C. Palace
S'hampton  1-1    Leicester
Leicester  2-4    Newcastle
Man Utd    1-2    Leicester
Chelsea    2-1    Leicester

Spurs      -    DWWLWL
           
Everton    2-2    Spurs
Spurs      2-1    S'hampton
Spurs      4-0    Sheff Utd
Leeds      3-1    Spurs
Spurs      2-0    Wolves
Spurs      1-2    A. Villa

Pos           P  W  D  L   F-A   GD  Pts
5. Leicester 37 20  6 11  66-46  20   66  
7. Spurs     37 17  8 12  64-43  21   59

I'm fearing number thirteen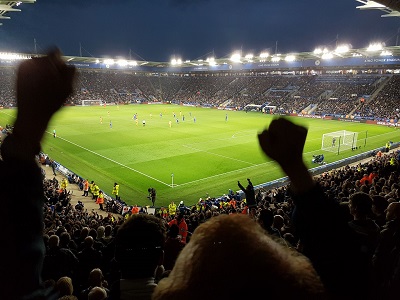 A happy day for Spurs fans four years ago in the King Power Stadium, Leicester
Here we are then. It's the last game of a strange season. Fans have rarely been allowed into stadia to see their team. In Spurs' case they played three games early in December which were watched by 2,000 fans. They won the two at home. One was against Arsenal, the other was in the Europa league against Antwerp. The away game was against Crystal Palace. Finally on Wednesday 10,000 of us were in the Tottenham Hotspur Stadium and endured one of our team's worse performances of the season.
Both Leicester and Spurs have played in this season's domestic cup finals. Spurs lost to Man City in front of an official crowd of 7,773. Leicester beat Chelsea last week (their very first FA Cup final win) and were watched by 20,000. On Tuesday in a repeat match, the "Foxes" lost 2-1, which means they have dropped to fifth place and desperately need to win tomorrow's game to stand any chance of entering the Champions League for only the second time. If Chelsea and Liverpool win, Leicester will still miss out, unless they beat Spurs by a large margin.
There will be some five or six thousand Leicester fans in the King Power Stadium to see their team's newly-won FA Cup Trophy and to urge their team on to a vital win. Those fans will gloat about the fact that they have now won the Premier league and the FA Cup since we even last won the League Cup in 2008. Indeed, with two League Cup wins in 1997 and 2000, "Foxes" fans can boast a trophy count of four, compared to our two since we last even played in (but won) the FA Cup in 1991.
Away fans won't be in the stadium to remind Leicester about May 6th 1961 when we beat them to claim the first modern-day double. Yes, that was a long time ago, and that hurts, but after that we did win the FA Cup another 5 times in the next 30 years, along with three European trophies and a couple of League Cups in the 70s. We've also been in the Champions League five times in the last 10 years.
Of course, we got nowhere near the standard required to win a Champions League place this season, and even a win for us tomorrow will not necessarily be enough for us to claim a Europa League place. We need West Ham (playing in front of 10,000 of their fans remember) to lose against Southampton for that to happen - if we win remember.
The six-game form of these two teams is identical in terms of three wins, two defeats and one draw. The Premier League record between the teams is symmetrical - won 12, drawn 5, lost 12. I fear (almost expect, to be honest) defeat number 13 at a venue where I hate to see us lose. An even worse fear in the event of defeat is for Arsenal to win and climb above us in the very last game (that's happened before). Last time, we finished third in a two-horse race. This time we could finish eighth or ninth (if Everton beat Man City) in a seven-horse race. There is only so much schadenfreude any Spurs fan can take, thank you. At least we might avoid the dreaded new third tier European Conference League.
We met Leicester at home on Matchday 37 last year. Going into the game, Leicester were fourth, above Manchester United on goal difference. The fact we won 3-0, with Harry Kane scoring twice, and a United draw, put paid to fourth place, and Leicester lost at home to United in their last game for good measure. It will be frustrating for "The Foxes" to be edged out of Champions League football for a second time. Tomorrow's Match referee Anthony Taylor and his assistant referees were on duty for this game too.
It's 20 months since we last played at The King Power Stadium. That was not a happy occasion for us, as we surrendered fourth place to Brendan Rodgers' men. Again, there was a goal for Kane, but we were the victims of a harsh VAR offside decision against Son in the build-up to what would have been a second goal for Spurs. We've been the beneficiary in other games of VAR decisions, and Leicester were grateful to VAR last week at Wembley to preserve their 1-0 victory over Chelsea.
We've had a few end of season games against Leicester. An unhappy meeting for us was Leicester's last game at the old Filbert Street Stadium in 2002. An ecstatic game for us was match number 37 in the 2016-17 season when we beat "the Foxes" 6-1 to utterly embarrass the Premier League Champions of the preceding season. Harry Kane scored four goals in that game and a hat-trick at Hull in our last game that season to secure the Golden Boot which he would love to win for a third time tomorrow. The media have already sold Kane this week, following Gary Neville's Overlap interview, but Spurs fans have to hope that doesn't come to fruition.
I do fear and have even predicted defeat tomorrow (2-1 - sorry guys). I also fear a further downturn in our fortunes in the coming season, although an absence from Europe would surely enhance our chances to put in a better challenge in the league. Am I being too pessimistic? Let's hope so. Spurs will be without Ben Davies and Japhet Tanganga, whilst Leicester will miss Jonny Evans who tried a return in the Cup Final but had to give up to injury after half an hour. Harvey Barnes is a player I have enjoyed watching, but he's been out since February and will not return until next season.
This will be referee Anthony Taylor's third Spurs game this season, each of which have been away from home. The previous two games were the magnificent win at Old Trafford, and the narrow defeat at Anfield.