. Last season's game - Wolves 1 Spurs 0, 04.03.23
. Premier League Matchday 12 - last year
. See the current injury list for all Premier League Teams
. All the Spurs Stats you could hope for here! THFC6061 Sports Stats

Full Record of Spurs -v- Wolverhampton Wanderers

Prem         Pl   W   D   L   For- Ag  Pts
Home          9   4   1   4   15 - 13  13
Away          9   5   2   2   14 -  9  17
==========================================
Total(Prem)  18   9   3   6   29 - 22  30  1.67 Pts per game
=========================================
Div 1
Home         31  21   6   4   76 - 40  50
Away         31   9   7  15   46 - 60  27
=========================================
Total(Div 1) 62  30  13  19  122 -100  77
=========================================
Div 2
Home          6   5   1   0   18 -  9  11
Away          6   1   0   5    6 - 16   2
=========================================
Total(Div 2) 12   6   1   5   24 - 25  13
=========================================
Total(Prem)  18   9   3   6   29 - 22  30 
Total(Div 1) 62  30  13  19  122 -100  77
Total(Div 2) 12   6   1   5   24 - 25  13
=========================================
GRAND TOTAL  92  45  17  30  175 -147 120
=========================================

Last Six Premier League results:-

Wolves      -     DWDWDL

Luton      1-1    Wolves
Wolves     2-1    Man City
Wolves     1-1    A. Villa
B'mouth    1-2    Wolves
Wolves     2-2    Newcastle
Sheff Utd  2-1    Wolves

Spurs       -     DWWWWL
           
Arsenal    2-2    Spurs
Spurs      2-1    Liverpool
Luton      0-1    Spurs
Spurs      2-0    Fulham
C. Palace  1-2    Spurs
Spurs      1-4    Chelsea

Pos          P  W  D  L   F-A   GD  Pts
 2. Spurs   11  8  2  1  23-13  13   26
14. Wolves  11  3  3  5  14-19  -5   12

Despite everything I still fancy us to win!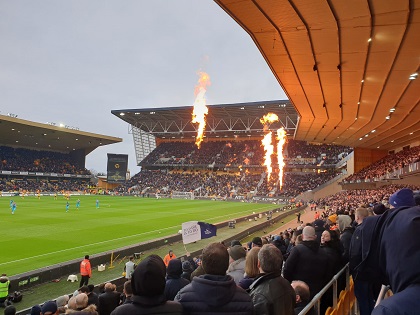 Thanks to Gary Smith for this picture
A much-weakened Spurs squad travels to Molineux tomorrow (12.30 TNT) for a very testing fixture in which we will be hard-pushed to win and to regain first place in the league table before Manchester City's Sunday game at Stamford Bridge. A win would at least keep us in second place, whatever happens to Liverpool and Arsenal.
Both Christian Romero and Udogie Destiny are suspended after Monday night's sendings-off. Micky van de Ven (hamstring), James Maddison (ankle) and Richarlison (groin) have been added to the injury list which already includes long-term absentees Perisic and Solomon. Maddison was initially picked for the England squad for the November break but has now been withdrawn. Ange Postecoglou has confirmed at his press conference that Maddison and Van de Ven will be out until the New Year. At least Destiny Udogie will be eligible to return for Aston Villa on 26th November. Ben Davies will be available for selection tomorrow.
Wolves have had some good results in recent weeks, and are much-changed since we last met in March. Then, with Antonio Conte in charge, we lost 1-0 to a late goal by Adama Traore, who has since moved to Fulham. Conte remained in charge for only three more games.
Only days before the season started Julen Lopetegui left Wolves by mutual agreement. Lopetegui was not happy with the fact that Wolves were shackled by financial fair play rules. Thanks to the former Spain, Real Madrid and Valencia manager, Wolves became the fourth team to be bottom of the table on Christmas Day but avoid relegation, after West Bromwich Albion (2004/05), Sunderland (2013/14) and Leicester (2014/15).
Gary O'Neil, who had been sacked by Bournemouth was appointed by Wolves, from whom players such as Neves, Moutinho, Diego Costa and Jimenez had left. In fairness, Jimenez has never been as powerful a force since his serious head injury at Arsenal in November 2020, and has yet to make an impact for Fulham.
Everton did not trigger the clause to sign Conor Coady on permanent deal from Wolves. After returning to Wolves, Liverpool-born Coady was sold for £8.5 million to relegated Leicester.
Former Spurs right back Matt Doherty re-joined his old club from Atletico Madrid. Doherty, who is now 31, was initially loaned by Spurs, but then allowed a free transfer as Spurs would have exceeded the permitted number of loans. He made just two substitute appearances for Atletico after leaving Spurs at the end of January. Doherty has made just one Premier League start this season and four appearances off the bench.
Wolves defender Nathan Collins went to Brentford. Matheus Nunes left for 53 million to Manchester City. Arrivals at Molineux include midfielder Tommy Doyle on a season-long loan from Manchester City and midfielder Jean-Ricner Bellegarde on a five-year deal from Strasbourg.
In September when Wolves played Manchester City at home they were fortunate that Rodri was serving a suspension and Wolves became the first team to beat Man City in the Premier League this season.
This time they have even more luck with two opposing players suspended and one maybe two key opponents injured. So these events may have an even bigger influence on the result this time around.
Spurs will be playing without three of their usual back four and playmaker James Maddison. He and Van de Ven have been two of our players of the season so far. Three others who fall into this category are goalkeeper Vicario (heroic on Monday night), top goalscorer and captain Heung-min Son, along with Dejan Kulusevski will play. Brennan Johnson, who excited against Chelsea until he was sacrificed following the dismissal will surely start beside Kulusevski and Son. I fancy a strong midfield three (Sarr, Bissouma, Hojbjerg) to protect a weakened defence which will perhaps read Pedro Porro, Dier, Davies and Emerson Royal.
Despite everything, I still fancy Spurs to pull off a 2-1 win!
Wolves were one of the 12 founder members of the Football League in 1888 and their very first league game was at home to Aston Villa on September 8th. The game was drawn 1-1 and the first goal was a Villa own goal scored by Gersham Cox after 30 minutes. Cox was born in Walsall in 1863. "The oldest football league fixture in the world" was replayed this season on 8th October, and was also drawn 1-1. Wolves scored first again, through Hwang Hee-Chan, born in Chuncheon, South Korea in 1996.
Two other founder members of the Football League, Burnley and Everton, also currently play in the Premier League. Wolves are currently in their sixth successive season and their longest spell at this level. This is the club's seventh top flight spell. They were our victims in the 1921 FA Cup Final, the 1972 UEFA Cup Final, the 72-73 League Cup semi-final and the FA Cup semi-final in 1981.
Wolves' heyday was between 1949 and 1960 when, managed by Stan Cullis, they won three league titles, and the FA Cup in 1949 and 1960. They played in the first round of the 1958 European Cup but were beaten on aggregate by Schalke. Billy Wright (who until Bobby Moore and Bobby Charlton overtook him) was England's record cap winner and played for Wolves between 1946 and 1949. Wright was a one-club player and of course the club captain for many years. Wright died in 1994. Had he lived, he would have celebrated his 100th birthday next February. Wright was less successful as a manager (of Arsenal) between 1962 and 1966. There is, of course, a statue of Wright outside the Molineux Stadium, and a stand named after the great man.
This is only the fourth occasion that Tim Robinson has refereed a Spurs game, but the second time this season. He was in charge of our 2-0 away win at Bournemouth this season. Mr Robinson also had charge of our 1-0 defeat at Molineux in March.